Pulitzer Prize-Winning Author, Historian David McCullough to Deliver Ubben Lecture March 18
February 5, 2002

February 5, 2002, Greencastle, Ind. - David McCullough, Pulitzer Prize-winning author and two-time winner of the National Book Award, whose John Adams remains a national best-seller nearly a year after its release, will present a Timothy and Sharon Ubben Lecture at DePauw University, Monday, March 18, in Kresge Auditorium. McCullough, a gifted speaker who is also an editor, essayist, teacher and television host, will speak at 7:30 p.m. in Kresge Auditorium of DePauw's Performing Arts Center.
David McCullough has been called a "master of the art of narrative history." The Washington Post referred to him as "our historian laureate in waiting." His books have been praised for their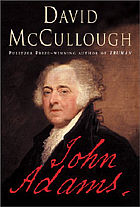 exceptional narrative sweep, their scholarship and insight into American life, and for their literary distinction. Besides John Adams, which was released last May and has shipped more than a million copies, McCullough penned Truman,a massive, ten-year project that earned him the Pulitzer Prize in 1993. His other works include The Johnstown Flood, The Great Bridge, The Path Between the Seas, Mornings on Horseback and Brave Companions. None of McCullough's books have ever been out of print, quite a feat given that his first historical work was published in 1968.
A two-time winner of both the National Book Award and the prestigious Francis Parkman Prize, David McCullough has also received the National Book Foundation Distinguished Contribution to American Letters Award, the National Humanities Medal, the St. Louis Literary Award, the Carl Sandburg Award, and the New York Public Library's Literary Lion Award.
McCullough has lectured in all parts of the country and abroad, as well as at the White House, as part of the presidential lecture series. He is also one of the few private citizens to be asked to speak before a joint session of Congress. He's also appeared on public television as host of "Smithsonian World," "The American Experience," and narrator of numerous documentaries. He is a past president of the Society of American Historians. He has been elected to the American Academy of Arts and Sciences, and has received 31 honorary degrees.
"A lot of people think of history as old dead stuff, and who can blame them? It's so often presented that way, like nasty medicine you have to take," McCullough told the National Book Foundation. "I feel the story of our country is so strong, the richness and drama of it are so compelling, that I want to share the wealth. History is about life, about people-people, people, people -- and I don't see why you, or I, or

anyone, should limit those we know only to the brief time our biological clocks provide."
He continued, "Every time I begin a book I think how much I'm going to learn. I hope my readers will learn a lot too, and find as much enjoyment in that as I have. I'm seldom happier than when I'm creating something. When I have the research and my notes and my books stacked up about me, and I'm inside the work. One of the reasons why I enjoy the company of John Adams and Thomas Jefferson is that they made things. They wrote. They were builders."

Born in Pittsburgh, Mr. McCullough graduated from Yale University with honors in English literature. An avid reader, traveler, and landscape painter, he lives in West Tisbury, Massachusetts with his wife Rosalee Barnes McCullough. They have five children and fifteen grandchildren.
David McCullough will spend the afternoon of March 18 meeting and talking with DePauw students. His evening Ubben Lecture is free and open to the public.
To view a complete roster of Ubben Lecturers -- which includes links to video clips and news stories -- click here.
Back