Education Professor's Award a First for University in Taiwan
February 12, 2002

February 12, 2002, Greencastle, Ind. - National Taiwan Normal University, one of the two oldest and most prestigious universities in Taiwan, has honored DePauw's Esther Lee as an outstanding alumnus. Dr. Lee, professor of education and chair of the education department at DePauw, is the first female recipient of such an award in the Taiwan University's history. She was nominated by a department chair and selected by a university-wide committee for her scholarly work and contributions to the Chinese American community in the United States.
A bilingual writer and speaker, Dr. Lee writes a weekly column on interactive parenting that appears in the World Journal, a Chinese newspaper with worldwide circulation. She has authored six books and delivered speeches and presentations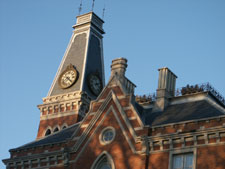 at a countless number of civic, religious and professional seminars and conferences both in the United States and abroad. Last May, she was nominated to serve on the National Council for Accreditation of Teacher Education's (NCATE) Board of Examiners.
Before coming to DePauw, Esther Lee taught at the University of Houston Clear Lake, and Southern Arkansas University for a total of 18 years. She also served as a deputy director of the U.S. Department of Education and a board member of the Texas Board of Pardons and Paroles.
Back