Paper Writes of Two Students' Winter Term in Service in the Dominican Republic
February 12, 2002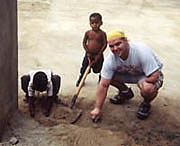 February 12, 2002, Greencastle, Ind. - "After going on trips abroad, I came to realize how important it is to serve your own community," DePauw University senior Laura Farrell told the Journal and Courier of Greater Lafeyette, Indiana in a story entitled, "Students do mission work in the Dominican Republic." The piece, which is in today's edition, tells of the Winter Term trip Farrell and sophomore Ben Murray (who both live in the newspaper's coverage area; Murray is seen in the photograph above at left) took that bettered the lives of others and provided the DePauw students with life-changing experiences.
The Journal and Courier's Vanessa Renderman writes, "they stayed at an all-male orphanage that houses 2- to 18-year-olds. They helped treat people in need of medical attention, many of whom suffered from malnutrition. They educated them about disease prevention. They said they left with an appreciation for the simple things in life." Murray told the reporter, "It was hard to leave."
The story continues, "Many of the 22 students who went on the trip bonded with the children, even though they were warned it would be difficult to leave if they got too attached. 'They just want you to play with them. They don't expect anything,' Murray said. Murray and Farrell spent about three weeks in the Dominican Republic, and although they spent time playing with the kids in the orphanage, the focus of the trip was to help improve the living conditions."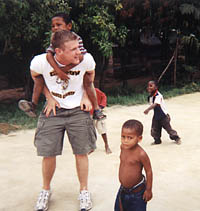 The story tells of how Murray and Farrell bonded with the children, and how the pair and the other DePauw students on the trip watched a movie with the youngsters, something the kids don't typically have a chance to enjoy. Farrell says she learned a lot about another culture, having compassion for others, and the blessings that many of us take for granted. "It makes you appreciate what you have and makes you happy and proud that you were born where you were."
The entire article can be read at the Journal and Courier's web site by clicking here.
Back