Applications on a Record-Setting Pace, Quality of Students "Best Yet"
February 13, 2002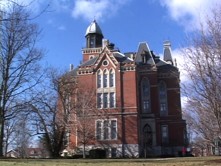 February 13, 2002, Greencastle, Ind. --
[DOWNLOAD VIDEO: "A Great School" 223KB]
[DOWNLOAD VIDEO: "Applicant Pool" 877KB]
[DOWNLOAD AUDIO: "Applicant Pool" 473KB])
[DOWNLOAD VIDEO: "Demigods" 551KB]
[DOWNLOAD AUDIO: "Demigods" 316KB] "We have more very smart students applying than we've ever had before, or as one of my colleagues has said, 'Those who were gods last year, would be demigods in this year's applicant pool.'" While volume is up, so is the quality of the applicants. Eagon reports, "people who would have been invited to be Rector Scholars at DePauw last year (now) don't even make the cut."
As a result of the swelling numbers of students interested in DePauw, and the increased academic and personal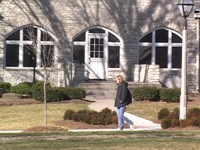 achievement,
[DOWNLOAD VIDEO: "Very Competitive" 244KB]
[DOWNLOAD AUDIO: "Very Competitive" 130KB] "those who might have been admitted in other years won't be offered admission (for this fall) or will be placed on the waiting list because of the competitive nature of this year's pool."
Eagon says this year's applicants are also more diverse multi-culturally, geographically and in terms of their interests. She believes a combination of factors have led to the increased interest in DePauw. The University has been ranked a top-tier national liberal arts college for two consecutive years by
U.S. News and World Report and is a "best value," according to that magazine. The Princeton Review's 2002 The Best 331 Colleges ranks DePauw's professors, social environment, radio station and spiritual environment as among the best in the nation.
Eagon says the University also benefits from
[DOWNLOAD VIDEO: "Getting the Word" 670KB] "really good word of mouth from our current students. We see lots of applicants from high schools where there are currently (graduates) enrolled at DePauw, so we think that they most go back and the word gets out that they really like it here."
In the end, Eagon says the primary reason more young people are choosing DePauw than at any time in history is
the school's academic programs and the faculty-student ratio of one to ten.
[DOWNLOAD VIDEO: "The Difference" 1056KB] "We've had more prospective students visiting campus this year than we've ever had before. Many of those students will sit in on a class. And people say it's very interesting -- that they like to see the dynamic between our faculty and the students -- the kind of mutual respect that's accorded and the way our faculty members teach. It's a highly interactive, very involved kind of teaching. It's not lectures, it's not what they see when they go to big universities," Eagon said.
Back