Pulliam Professor Quoted in SPJ's Quill
February 14, 2002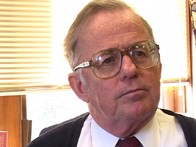 February 14, 2002, Greencastle, Ind. - Budget cuts at newspapers across America are carving into internship programs, according to an article in the January/February 2002 issue of The Quill, published by The Society of Professional Journalists. The organization was founded at DePauw. The story entitled "Interships hit the chopping block" includes the thoughts of one of the University's new voices.
Included is this quote: "'You're not saving that much money,' said David Hall, the former editor of the Plain Dealer and the Denver Post and now the Eugene S. Pulliam Distinguished Visiting Professor of Journalism at DePauw University. 'I tend to think you're sending a symbolic sign to the newsrooms that things are pretty bad. [Internships] aren't free, but they're not that expensive.'"
Written by Elizabeth Birge, an assistant professor of journalism at William Paterson University, the article can be read in its entirety at the SPJ web site by clicking here.
The Society of Professional Journalists was founded as Sigma Delta Chi in 1909 at DePauw University to improve and protect journalism. SPJ is dedicated to the perpetuation of a free press as the cornerstone of our
nation and our liberty. Its membership now numbers about 9,000 nationwide. The organization has an annual operating budget of $1.7 million. The DePauw, the birthplace of SPJ, will celebrate its 150th anniversary in April. Learn more by clicking here.
David Hall, who came to DePauw last fall, wrote an op-ed piece for the San Francisco Chronicle on the coverage of John Walker Lindh that was published February 6, 2002 read more here. Five days later, he appeared on Indianapolis radio station WIBC to talk about his essay. You can read about that program and hear audio clips from it by clicking here.
Back