Connecting "Soul and Role" Critical, Parker Palmer Says in Mendenhall Lecture
February 14, 2002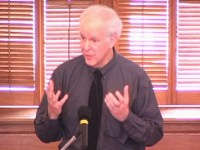 February 14, 2002, Greencastle, Ind.
[DOWNLOAD VIDEO: "Unexamined Life" 1311KB]
[DOWNLOAD AUDIO: "Unexamined Life" 515KB] "It's not only that the unexamined life is not worth living; the unexamined life is an incredible danger to everyone around you," said writer and educational activist Parker J. Palmer as he presented the spring Mendenhall Lecture at DePauw University this afternoon. In his speech, "Spirituality in a Secular Society," delivered in Meharry Hall of historic East College, Dr. Palmer talked of "reconnecting soul and role," and suggested those connections were never made by executives of Enron Corporation.
"Those are very, very smart people that we're watching testify in front of Congress, educated at some of the best schools in our country. And yet, (they're) people who don't have the foggiest notion about their own inner dynamic-- about the difference between a legitimate business decision and an inner drive called greed, ego or lust for power-- partly because their schools, I think, failed them in that," Palmer said.

Palmer, the author of a number of books including Let Your Life Speak: Listening for the Voice of Vocation, says its important to understand the connection between the inner and outer life; that one can't be successful living a "divided life," keeping ideas apart from feelings.
[DOWNLOAD VIDEO: "The Socratic Approach" 414KB]
[DOWNLOAD AUDIO: "The Socratic Approach" 525KB] "DePauw and all liberal arts colleges have part of their tap root at least in the words of Socrates, who said, 'the unexamined life is not worth living,'" he told his Greencastle audience.
Dr. Palmer says the intellectual, emotional and spiritual elements of humans are "intertwined," and must all be served, but often are not. He remembered learning of the Holocaust while a college student, which he was taught by
[DOWNLOAD VIDEO: "The Holocaust" 1955KB]
[DOWNLOAD AUDIO: "The Holocaust" 1020KB] "objective historians who were willing to deal with the intellectual side of the equation -- the facts and the figures. But by dealing with only the facts and figures, they taught me about these horrors with such remove, such antiseptic, such arms-length, that I came out of those studies somehow imagining, and this is a hard thing to say, that all of that had happened on another planet to another species. Nobody ever said 'different planet, different species,' but the data were presented at such distance from my subjective life that I had no way of connecting with the fact that this wasn't about another planet and another species, this was me, my place, my people, my time. And I don't think I'm the only one who suffered that deformation," Palmer said.
The human dilemma of a "divided life"-- working for a corporation that demands loyalty, a demand that can conflict with the need to speak truth-- is an issue Parker Palmer addresses nationwide in workshops on education, community, leadership, spirituality, and social change. He is a senior associate of the American Association of Higher Education, and senior adviser to the Fetzer Institute and designer of their teacher formation program. Dr. Palmer says he learned about having a strong inner life by studying oppressed people throughout the course of history.
[DOWNLOAD AUDIO: "The Power" 1090KB] "They had no money, they had no political clout, they had no access, they had no leverage, they did not have vast armies at their command... How in heaven's name do people who have all external forms of power stripped away from them create world-changing revolutions? Well they do it by reaching for an equally great power: the power of the human heart, of identity and integrity, of moral vision and moral suasion."
Palmer told the students, faculty, staff and members of the Methodist Church gathered for the Mendenhall Lecture that
[DOWNLOAD AUDIO: "Better Choices" 515KB] "In the doing of higher education and certainly in life of
religious communities, we need to be putting on the table all of these inner landscape questions... for the sake of lifting them up to a level of reflectiveness and self-awareness. Where people can make better choices than we sometimes do, and be challenged in some of the choices we have made. That, I think, is what good education is all about."
Parker Palmer engaged in discussions with two groups on campus following his speech. Before leaving Meharry Hall, he offered,
[DOWNLOAD VIDEO: "Common Cause" 468KB] "What enormous opportunities we have in the work we do to know our own inner lives enough to respect and appreciate the inner lives of other people, and to liberate them on behalf of good work for the common cause."
Back