Senior Lindsey Rush Featured on TV -- See it Here!
February 15, 2002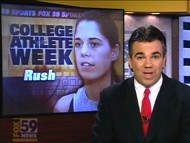 February 15, 2002, Greencastle, Ind. - "Lindsey Rush led DePauw in scoring the past two seasons, and the fact she's even playing this year at all falls into the miracle category," WXIN/Fox 59 in Indianapolis announced Thursday, February 14, 2002 in its 10 p.m. newscast as it named the DePauw senior its "College Athlete of the Week." The story, shot at Wednesday's practice, features Rush's comeback from a torn anterior cruciate ligament in early November. She was
cleared to practice less than two months after the surgery, a month sooner than the most optimistic prognosis of doctors. (See the story, here, courtesy of WXIN/Fox 59:
[DOWNLOAD VIDEO: "Lindsey Rush on Fox 59" 2700KB] )
A pre-season Division III All-American, Lindsey Rush was injured a week before the Tigers' first game. "The first thing I thought about was, why does this have to happen now?... my senior year and everything," Rush says in the story. Head coach Kris Huffman, who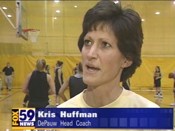 also appears in the piece, calls the sequence of events "gut-wrenching." The story explains how a ligament from a cadaver was used to repair Rush's tendon, allowing her to return to a game that doctors said she may never be able to play again. (You can also see the story "tease" that aired on Fox 59 to promote the story earlier in the newscast:
[DOWNLOAD VIDEO: "Story Tease" 781KB] )
"It was just a lot of hard work, every day," Rush told the station. Trainer Sara Root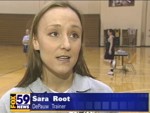 added, "Having great motivation and team support, it was a little easier, from a mental standpoint, I think, to get her back."
The lead-in to the story noted that the Tigers won their 20th straight game earlier Thursday evening. You can read more about the successful season of both the womens and mens basketball programs by clicking here.
Back