Cartoonist/Professor Jay Hosler '89 Featured in Pittsburgh Post-Gazette
February 18, 2002
February 18, 2002, Greencastle, Ind. - "A professor by day, daring cartoonist by calling, Jay Hosler's creating a buzz as a guy who makes science accessible," writes Tom Gibb in the Pittsburgh Post-Gazette. A lengthy feature story on Hosler, a 1989 DePauw University graduate and assistant professor of biology at Juniata College, includes a color photo, several examples of Hosler's cartoons, and a mention of his days in Greencastle.
"He drew for school papers as he wound from a bachelor's degree in biological sciences at DePauw University to a doctorate from Notre Dame to post-doctoral work at Ohio State." Gibb writes of Hosler, who studied at OSU's honeybee lab and is known to his students as "Bee Man." Hosler's 158-page comic book, Clan Apis, stars honeybees. "Not bees in tights and capes, mind you. These are talking bees, bees at work, bees in peril, bees doing bee things that most folks would have no inkling about unless they spent 12 weeks in isolation with the Learning Channel."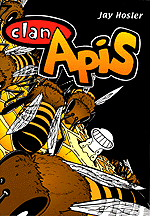 The article continues, "There's even pathos spread thick, as lead character Nyuki (Swahili for 'bee'), once a wisecracking larva, limps dutifully toward the end of her seven-week life cycle. 'Two little girls e-mailed me and said, 'My daddy read it to me, and I cried when Nyuki died,'' Hosler said."
Clan Apis was the recipent of a 1998 Xeric Award and has been nominated for 3 Ignatz Awards (1999: Outstanding Series; 2000: Outstanding Series & Outstanding Graphic Novel or Collection) and 3 Eisner Awards (2000: Best Limited Series, Best Title for a Younger Audience & Best Writer/Artist-Humor). Discover magazine wrote that Hosler "ingeniously reworks the plot conventions of the musty old action comic" and "sneaks a lot of lessons about bee anatomy, behavior and ecology into his brisk story."
Hosler, who started drawing at age 2 1/2, says of his dual role as professor/cartoonist, "The choice was, like, use the right side of your brain or use the left side of your brain. I happen to like them both."
You can read the Post-Gazette article in its entirety at the newspaper's web site by clicking here.
Jay Hosler maintains a Clan Apis site, which you can reach by clicking here.
You can learn more about the comic book, and order a copy at Amazon.com by clicking here.
Back