Author, Cultural Critic to Discuss the 'Hip Hop Generation' Monday
February 22, 2002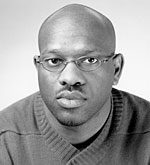 February 22, 2002, Greencastle, Ind. - Bakari Kitwana, who has been called one of black America's sharpest young cultural critics, will be on the DePauw University campus Monday evening, February 25, 2002 for a 7 p.m. speech in Watson Forum of the Pulliam Center for Contemporary Media. The title of Kitwana's talk is "Translating Hip-Hop's Commercial Success into Political Power."
Kitwana has been executive editor of The Source, editorial director of 3rd World Press, and a music reviewer for NPR's "All Things Considered." He has also lectured extensively on rap music and black youth culture, and is a regular contributor to the Village Voice, The Source, and The Progressive.
His new book, The Hip Hop Generation: The Crisis in African American Culture will be published next month. He is also the author of The Rap on Gangsta Rap: Who Run It?: Gangsta Rap and Visions of Black Violence.
Bakari Kitwana's DePauw appearance, which is free and open to the public, is sponsored by Black Studies as part of the University's Black History Month celebration.
Back