Barbara Kingsolver '77 on Cover of Kentucky Monthly
February 27, 2002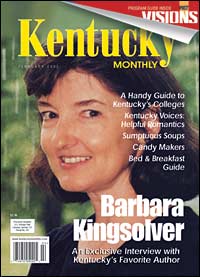 February 27, 2002, Greencastle, Ind. - "At first glance, she doesn't fit the Kentucky stereotype. Her politics are decidedly liberal, crafted in part from her formative years at DePauw University, where she feasted on books of socialistic reformers. There, she says, 'the scales fell from my eyes.'" So begins a Kentucky Monthly article on best-selling author Barbara Kingsolver. The 1977 DePauw graduate graces the cover of the magazine's February 2002 issue.
Kingsolver, who was raised in Kentucky and now lives in Arizona, is interviewed in an article entitled, "Barbara Kingsolver: Kentucky's 'Polite Firebrand' Author." It asks "how is it that she has connected in such a heartfelt way with so many citizens of the Commonwealth? Perhaps she is in the tradition of, in her own words, 'the polite firebrands' that Kentucky has spawned throughout its history -- names like Arnow, Berry, and even Abraham Lincoln."
Kingsolver, whose works include Prodigal Summer and The Bean Trees, talks with the magazine about her Kentucky roots, the state of education and the power of writing. "Everybody in school wants to be popular and have friends; it seems
to me that this is about self-expression and connection to the world... Through writing you can help people, advise people, make them laugh, even change the world. You can do it for people in faraway countries, or even for people who haven't been born yet. Writing a book is a way to live forever."
She continues, "Writing and reading are the two best ways humans have invented to participate with the wider world. Playing video games is very lonely; it doesn't connect you with anything whatsoever. Reading a book, though, allows you to go anywhere in the world, and even become another person by living inside his head, experiencing his thoughts and emotions and troubles and joys. Writing a book is the ultimate act of intimate participation with the world: in a way, you get to be friends with thousands or millions of people all over the world by sharing with them your most passionate beliefs and observations. It's an incredible feeling."
At the conclusion of the interview, Kingsolver is asked about her plans for the future. "Five years from now, if I'm very, very lucky,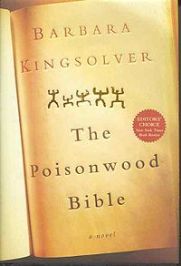 I'll be doing what I'm doing today -- writing books, growing a vegetable garden, helping my kids grow up, and agitating in my community and the wider world to make things a little better for the ones who are coming along behind us."
You can read an excerpt of the Barbara Kingsolver story at Kentucky Monthly's Web site by clicking here.
Barbara Kingsolver was raised in eastern Kentucky and left the region to attend DePauw, where she majored in biology, and took one creative writing course. Kingsolver received a masters of science degree from the University of Arizona at Tucson, then became a freelance feature writer. In 1995, DePauw awarded Kingsolver with an honorary doctorate of letters degree. Kingsolver talked with NPR (National Public Radio) when Prodigal Summer was released. You can hear the interview by clicking here.
Back