DePauw's Posse Participation Noted in Catalyst
February 27, 2002

February 27, 2002, Greencastle, Ind. - Since 1996, DePauw University has been affiliated with The Posse Foundation, a New York City-based organization that recruits multi-racial and multicultural students from public high schools and enables these young people to attend and successfully graduate from some of the nation's finest liberal arts institutions. Posse, and its DePauw connections, are the subject of an article in the February 2002 issue of Catalyst, which provides independent coverage of Chicago school reform.
The story, entitled "Lean on Me: Posse gives students a life line," states that the program "sends students in groups of 10 to the same college to bolster each other through the experience. Partnering colleges give each student a full four-year tuition scholarship." Andrew Williams, executive director of Posse Chicago, tells Catalyst, "We want them to have an impact on their campuses, and they are. We've seen young people of different ethnic backgrounds who wouldn't normally sit together, sitting together. Posse kids make bonds outside of their groups. They become presidents of organizations, invite diverse speakers to their campuses, hold dances and sponsor events to bring people together. All this changes the classroom climate."
The article continues, "The commitment to diversity convinced DePauw University in Greencastle, Ind., to sign on as a partner." Jacqueline Dee Gardner, dean of first-year students and academic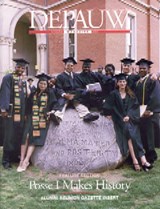 support services and Posse mentor at DePauw, tells the publication, "The Posse program is so important and so worthwhile. They are creating inclusive communities on campus, increasing the number of students of color and, more importantly, helping the retention rate of non-Posse members because they keep broadening their circles and reach out to everybody. This is one of our university's missions."
The story notes that, since the Posse program was launched 13 years ago, more than 90 percent of the participants have stayed in school and graduated. Last May, Ramon Castillo, Yuly Ng Cheung, Anisah Miley and Kristina Kesler of Brooklyn, N.Y.; Jimmy Clark of Staten Island, N.Y.; and Clint Graham, Derron Harris and Keryn Vickers of Bronx, N.Y. became DePauw's first Posse graduates. (photo from DePauw magazine cover, seen above, by Marilyn E. Culler)
To read the Catalyst article in its entirety, click here
Back