"The Dream" is Alive But Not Yet Realized, Martin Luther King III Tells DePauw Audience
February 28, 2002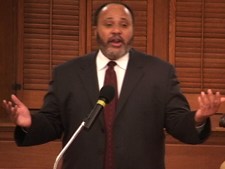 February 28, 2002, Greencastle, Ind. -
[DOWNLOAD AUDIO: "The Dream" 1701KB] "Quite often I'm asked the question, 'Have we achieved your father's dream?,'" Martin Luther King III told a standing room only audience that packed Meharry Hall of historic East College tonight. King's address, entitled "Has America Forgotten Her Dream?: Civil Rights Organizations and the Future," wrapped up the University's celebration of Black History Month.
[DOWNLOAD VIDEO: "Not Today" 242KB]
[DOWNLOAD VIDEO: "Blind" 720KB]
[DOWNLOAD AUDIO: "Blind" 365KB] "Over three decades after the assassination of my father, we now live in a color-blind, gender-blind, age-blind, religion-blind, class-blind, disability-blind society. Perhaps they are so blind that they cannot see the sobering reality around us, for we need only to look into our nation's board rooms to see that the day about which Martin Luther King, Junior dreamed is not today," he continued.
Martin Luther King III spoke about 150 yards away from Gobin United Methodist Church on the DePauw campus, where his father delivered a sermon on September 5, 1960. Dr. King's eldest son, who is president of the Southern Christian Leadership Conference and has spent his life as a human rights advocate, community activist, and political leader, says too many disparities remain in 2002 America. He cited statistics that the per capita income of African Americans is 61% of whites, and that 96% of the nation's top corporate jobs are held by white males. But he says many Americans of all ethnic backgrounds are hurting, and while the government spends more than $2 trillion annually, King maintains, "we're not taking care of our own."
[DOWNLOAD VIDEO: "Not Yet" 435KB]
[DOWNLOAD AUDIO: "Not Yet" 199KB] "And so I must say, no America has not forgotten her dream, but on the other hand, the dream has not manifested itself for all Americans. Not yet." King added,
[DOWNLOAD AUDIO: "Long Way to Go" 256KB] "We are a much better nation than we were, but we've still got a long way to go before the vision of freedom, justice and equality becomes real
for all humankind, and particularly as we are fighting terrorism."
King expressed reservations about some elements of America's war on terrorism, telling the DePauw audience that he supports the overall effort,
[DOWNLOAD VIDEO: "Fighting Terrorism" 966KB]
[DOWNLOAD AUDIO: "Fighting Terrorism" 446KB] "but I question whether or not the technique that we use, which is destroying others, is always the best method. For Martin King, Junior used to tell us that humankind must learn non-violence or face non-existence. And we certainly have not learned that message yet." A somewhat incredulous King wonders how American spy satellites
[DOWNLOAD AUDIO: "The 'Boogeyman'" 453KB] "can identify an automobile in Russia or China" and even determine the license plate number, "but we can't find a man named Osama who moves around at night on a donkey. Something about that doesn't make sense.... But, you know, America has to have a 'boogeyman,' as long as we have a 'boogeyman' then we're mobilized. 'Let's go, let's go get him,'" King said.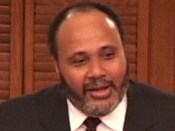 The son of the civil rights legend also questioned the wisdom of the administration's recent statement that it will seek to remove Iraq's Saddam Hussein from power.
[DOWNLOAD VIDEO: "Removing Saddam" 1048KB]
[DOWNLOAD AUDIO: "Removing Saddam" 485KB] "Even though I don't agree with how President Bush got there, he is President of the United States of America and I don't want anybody ever saying 'We're gonna come and remove President Bush.' So we need to be very careful about talking about removing other heads of state... It's one thing to influence the people of a country to say (themselves) 'We don't want this leader... anymore.' But it's another thing to talk about us removing-- I don't think that's right. I just think we need to proceed with caution," King said.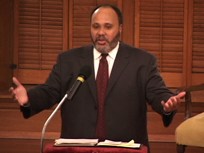 With Black History Month ending, King wryly recalled
[DOWNLOAD VIDEO: "The Shortest Month" 489KB]
[DOWNLOAD AUDIO: "The Shortest Month" 247KB] "when it used to be Negro History Week. And we finally got a month, but we didn't get a full 31 dayer. We got a month with some days missing," he said to laughter as he also pointed out that February is the coldest month of the year.
Turning serious, King said
[DOWNLOAD AUDIO: "History" 1125KB] "I hope that one day we will live in a nation and in a world where the history of all the different people that make up the population of our nation is celebrated and observed throughout the year... Because today we do study history, but history is primarily taught from
a Western and European perspective. And that perspective, while it may have great significance, it limits us. And so, we must be broader than that."
Martin Luther King III called upon his audience to work individually and collectively to make his father's dream of the "beloved community" reality. He took time to thank DePauw sophomore Paul Booth, Jr. (seen in photo at right after introducing King) whose grandfather worked for Dr. Martin Luther King, and who led the effort to bring King III to DePauw University.
Booth "called early and often," a smiling King said of the student's persistence.
Members of the audience, who gave King a standing ovation, attended a reception in the speaker's honor immediately following his remarks (in the photo at left, he's seen greeting Russell J. Compton, professor emeritus of philosophy and assistant chaplain at DePauw).
Back