Men, Women Both Win, Advance to Friday's NCAA Sectional
March 2, 2002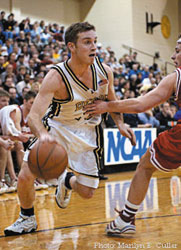 March 2, 2002, Greencastle, Ind. - In front of an estimated 1,800 fans in a packed and very loud Neal Fieldhouse tonight, DePauw University's men's basketball team, ranked seventh in the nation, defeated 8th ranked Wittenberg 89-76 in second round action of the NCAA Division III tournament. The win sends the men's team to the sectional, or "sweet 16" of the tourney, where they join the women's team (see below). As the final seconds ticked off the clock, the players embraced and the fans raced onto the court to join in the celebration (see the final seconds here:
[DOWNLOAD VIDEO: "Celebration!" 701KB])
[DOWNLOAD VIDEO: "Hard & Loose" 1100KB]
[DOWNLOAD AUDIO: "Hard & Loose" 582KB] "Yesterday in practice, we talked about being excited about playing, and wanting to play and being ready to play being different things," said DePauw head coach Bill Fenlon in his postgame news conference. Fenlon says he was concerned his Tigers might be "too juiced" for the game, but characterizes the team's play Saturday night as "really hard, but loose," which proved to be a perfect combination.
The Tigers were led by Joe Nixon and Jeremy Bettis, who each poured in 25 points (a career high for Bettis; see two of his points here:
[DOWNLOAD VIDEO: "It's Good!" 287KB] ). Wittenberg head coach Bill Brown says
[DOWNLOAD VIDEO: "Wittenberg Coach" 458KB] "DePauw's offense (combined) with what we thought was a little bit missing on our part defensively. DePauw was just outstanding tonight. When you shoot the ball that well, it makes the game a lot easier." You can sports information director Bill Wagner's complete game summary, including many more video highlights and interview clips, by clicking here. A box score of the men's game is available here.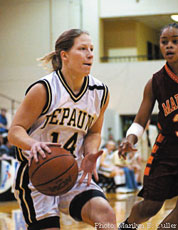 Earlier this evening, the DePauw University women's basketball team won its school record-tying 23rd game of the season this afternoon, defeating Maryville (Tennessee) College (Tennessee) 75-58 in second round NCAA Division III tournament action at DePauw's Neal Fieldhouse. Katie Imborek led DePauw with 19 points (see her score a first half basket here:
[DOWNLOAD VIDEO: "Imborek Scores" 312KB])
DePauw head coach Kris Huffman praised her team's aggressive play, and said the large and vocal crowd enhanced their effort.
[DOWNLOAD VIDEO: "A Great Send-off" 558KB] "It's awesome to be at home," she said in her postgame news conference, "and what a group today."
[DOWNLOAD VIDEO: "Maryville Coach" 725KB] "Hats off to DePauw," said Maryville head coach Dee Bell in his postgame news conference. Bell said "that's definitely the best or second best team we've played all year." Maryville wraps up its season with a 20-8 record.
Complete coverage of the women's game, including many more highlights and interview clips, are available by clicking here. A box score can be viewed by clicking here.
DePauw's teams will open sectional play Friday, March 8. at two different Ohio sites, with nearly simultaneous tip-offs. The women will be in Ohio at Wilmington College to play Hardin-Simmons at 5:30 p.m. The men's team will take on Washington (Missouri) University at 6 p.m. in Westerville, Ohio at Otterbein College.
Back