Indiana Journalism Hall of Fame to Induct Five New Members
March 11, 2002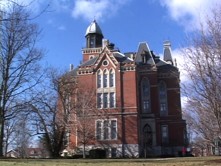 March 11, 2002, Greencastle, Ind. - The Indiana Journalism Hall of Fame will induct five new members during a ceremony April 13, 2002. The Hall of Fame, created in 1966 by the Indiana professional chapter of the Society of Professional Journalists, is housed in historic East College at DePauw University.
The Hall recognizes those with significant Indiana ties who have demonstrated they are journalists of the highest distinction.
The 2002 inductees are:
Phil Jones, a reporter at CBS News for 32 years before retiring in 2001. He was the winner of several Emmy awards during a career in which he covered Vietnam, Watergate and Iran-Contra, including assignments as the network's congressional or White House correspondent and on "48 Hours." Jones grew up in Fairmount, Indiana and graduated from Indiana University, where he and Dick Enberg were the first announcers when the IU basketball radio network was launched. He also worked at WTHI-TV in Terre Haute before joining the network.
Gene Miller, a two-time winner of the Pulitzer Prize for his investigative reporting at the Miami Herald. Miller grew up in Evansville and graduated from Indiana University in 1950. He started his career at the Fort Wayne Journal Gazette, then moved to Florida, where he won Pulitzers in 1967 and 1976 for reporting on the state's criminal justice system that exonerated people convicted in murder cases. He was a reporter and editor at the Herald from 1957 to 2001.
Ray Moscowitz, retired editorial director and executive editor for the Indiana-based Nixon Newspapers chain. He began a 29-year career with Nixon as a reporter at the Frankfort Times, moving to Indiana after growing up in Los Angeles. He later was managing editor in Frankfort, editor of the Michigan City News-Dispatch and publisher of the Wabash Plain Dealer and the Peru Tribune. As Nixon's editorial director, he oversaw recruitment and training. Moscowitz is credited with mentoring scores of young journalists at the chain's Indiana newspapers.
Betty Wason, a pioneering woman in radio journalism when she worked for CBS in Czechoslovakia, Norway and Greece from 1938 to 1941 as a war correspondent. Wason grew up in Delphi and graduated from Purdue University. She went on to write more than 20 books, including Miracle in Hellas about the Axis invasion of Greece and -- at the age of 86 -- a book about the macular degeneration disease that robbed her of much of her vision. She also was a Washington talk show host, women's editor for Voice of America and spent six years as moderator for Author Rap Sessions on NBC. She was living in the Seattle, Wash., area when she died in 2001.
William Miller Herschell, a journalist and poet who was a reporter at the Indianapolis News for 37 years. Herschell's best-known work is the poem Ain't God Good to Indiana, which is inscribed on a plaque in the Statehouse rotunda. He was born in Spencer and attended school in Huntingburg. Miller worked at newspapers in Huntingburg and Princeton before joining the News in 1902 as a features writer.
The Hall of Fame's induction ceremony will take place at 12:30 p.m., April 13 at the Walden Inn in Greencastle. Tickets for the luncheon are $25. Reservations can be mailed before the April 5 deadline to Indiana Journalism Hall of Fame, Pulliam Center for Contemporary Media, DePauw University, 609 S. Locust St., Greencastle, IN, 46135.
For more information about the Hall of Fame and its previous inductees, visit its web site by click here.
Back