Dayton Daily News Spotlights Winter Term in Service & Senior's Experience
March 17, 2002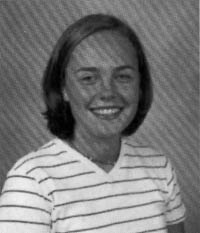 March 17, 2002, Greencastle, Ind. - "DePauw's Winter Term in Service is one of its many volunteer service programs," writes Pamela Dillon of the Dayton Daily News. "More than 3,000 DePauw students have served in 86 service sites on four continents," she continues in an article on DePauw senior Becky Collevechio's Winter Term 2002 experience (Collevechio is seen in the photo at left).
The story begins, "In his state of the union address on Jan. 29, President Bush challenged Americans to perform 4,000 hours of volunteer service. By the time he made his speech, Becky Collevechio, a 1998 graduate of Springboro High School, had already credited her 'volunteer account' with 120 volunteer hours. As a senior at DePauw University in Greencastle, Ind., she traveled with other student volunteers to Quito, Ecuador, where they spent a portion of their winter term finishing construction on two houses and breaking ground for another," Dillon writes.
The senior told the newspaper, "The fun part was that we got to interact with the owners of the houses, who were mostly single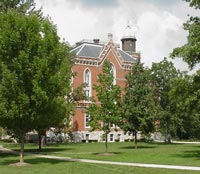 or battered women. They had nothing, yet they brought snacks and made meals for us. They were just so excited and thankful to have us there."
Becky Collevechio was part of a 22 member construction and public health team that spent most of January in Ecuador. The paper notes that Collevechio is "a Management Fellow and a member of the Ambassador's Club at DePauw. Besides being active in community service programs, she is president of her sorority and has served as philanthropy chairwoman."
Back