DePauw's 361° on Statewide TV
March 18, 2002
March 18, 2002, Greencastle, Ind. -
[DOWNLOAD VIDEO: "Story Preview" 208KB] "It's come full circle, or slightly past to be exact: 361° at DePauw University," said Inside Indiana Business host Gerry Dick on his statewide television program over the weekend as he previewed an update on DePauw's technology initiatives. The show marked the one-year anniversary of DePauw's announcement that it would create a national eLearning center, launched by a $20 million dollar grant from Lilly Endowment (read the original announcement here).
[DOWNLOAD VIDEO: "Another Story Preview" 541KB]
Calling 361° an
[DOWNLOAD VIDEO: "Introduction" 679KB] "innovative learning initiative," Dick said the programs are "designed to prepare students, faculty and, in fact, alumni for the digital age."
Dennis Trinkle, coordinator of eLearning Initiatives, associate coordinator of Information Services and Technology and Tenzer University Professor in Instructional Technology, was one of two DePauw guests on the business show. He said the initiatives have made
[DOWNLOAD VIDEO: "Big Difference" 1700KB]
[DOWNLOAD AUDIO: "Big Difference" 865KB] "a big difference, I think, already on campus." Dr. Trinkle says the new Information Technology Associates Program (ITAP) provides a "special opportunity for students, the best and the brightest ... there are nearly 70 of these students working on area internships ... That program will eventually have a big impact on the state" as DePauw students bring their technology and leadership skills to Indiana companies through internships and jobs after graduation.
Trinkle says another program, START, which aims to enhance the technical skills of all DePauw students, is also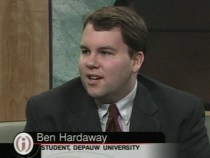 positively affecting the University.
DePauw senior and ITAP associate Ben Hardaway, a senior history major from Orlando, Florida, says the new initiatives have allowed him to learn more about digital video editing, which interests him, and teach others editing skills.
[DOWNLOAD VIDEO: "Student's Perspective" 885KB]
[DOWNLOAD AUDIO: "Student's Perspective" 474KB] "Between the symposia and different speakers we have coming in as part of the program, it's really opened my eyes to a lot of the technology initiatives going on in Indiana right now. As a senior looking at the job market, it kind of helps you to realize that there are a lot of new ideas in new places closer to home."
[DOWNLOAD VIDEO: "Julian Update" 1000KB] Trinkle updated progress on the expansion and renovation of the Julian Science and Mathematics building, which will house the 361° Center. Looking forward,
[DOWNLOAD VIDEO: "Improving Indiana" 760KB]
[DOWNLOAD AUDIO: "Improving Indiana" 427KB] "the big push in the year ahead is making this a program that's about making Indiana better. We've got a lot of things going now that will make DePauw a better school (and) bring better students. Now we want to make sure that we make our communities better, our area businesses better, the state better. Lilly (Endowment)'s been great in giving us $20 million, we want to make sure that improves the state in every way."
To learn more about Inside Indiana Business, click here.
Source: Inside Indiana Business
Back