John Jakes '53 Discusses Writing and His Upcoming Book
March 18, 2002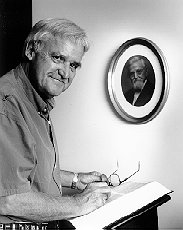 March 18, 2002, Greencastle, Ind. - "For years now, the name John Jakes has been a... melodious one for publishers, as well as a coveted trademark: a guarantee of well-crafted historical novels girded by thorough research," writes Bill Thompson of the Charleston (S.C.) Post & Courier of Jakes, a 1953 graduate of DePauw University. The story, entitled "Bestselling novelist penning saga of fictional Charleston family," continues, "Adaptations of his work also have helped define the television mini-series."
The article previews Jakes' latest work, Charleston, "a multi-generational saga of the fictional Bell family," which Dutton will publish in August. "I had wanted to do some kind of book about South Carolina for about 15 years," Jakes tells the paper. "South Carolina and Charleston, which was the power center, directly affected the course of American history in many ways. In its early years, the country was run by Southerners, many of whom were South Carolinians. But I didn't want it positioned by the publisher as a 'regional' book. It is not a provincial story; it's a book about American history. South Carolina, for better or worse, played a key role." Jakes and his wife Rachel (Payne, '51)
split their time between homes in South Carolina and Connecticut.
The newspaper story tells of how John Jakes, who was studying theater, began writing professionally at age 18. "Though Jakes would go on to write and perform in plays later in his career, at the time, he traded in the footlights for the keyboard when he sold his first story, "Machine," for $25 to the Magazine of Fantasy and Science Fiction, then as now one of the prestige periodicals of the genre. Soon he enrolled in the creative writing program at DePauw University, graduating in 1953. A year later he earned a master's in American literature from Ohio State University."
The article continues, "Jakes was a prolific writer all along, but his work began to accrue global attention after he commenced work on the first of eight volumes of the Kent Family Chronicles, a series depicting American history through the lives of a fictional family, in March of 1973." More than 60 million copies of his Kent Chronicles are currently in print, along with nearly 10 million copies of The North and South trilogy. Six of his major novels have been filmed as miniseries' for television. The original, 12 hour-long production of North and South, which aired on ABC is seventh among the 10 highest rated miniseries of all time.
Having been called "the godfather of the historical novel," "the people's author," and "America's history teacher,"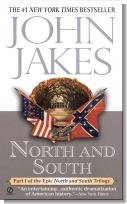 Jakes mingles the lives of his fictional characters with those of historical personages, and involves them in the great events of the U.S. and the world. "I get a tremendous amount of reader mail and e-mail messages from people who say, 'I always hated history in school, but I have learned as much from reading your books as I ever did in the classroom,'" he tells the Post & Courier. "Occasionally they one-up this by writing to say that they became a history major because of my books, or even a teacher of history. That means more to me than any honor, because what a writer really wants to do is connect with one person and have some slight impact."
Later, he reflects, "My ambition was not to be a writer. It was to be a published writer. I've pretty much worked where I wanted to work, done pretty much what I ever wanted to do, and have gone far beyond what I ever thought I would. There are so many subjects in historical novels; you'll never exhaust them. But I have no regrets."
You can read the lengthy newspaper story in its entirety by clicking here. Also available are a biography of John Jakes here, and a link to the author's home page, accessible by clicking here.
Back