Six to Receive Honorary Degrees
March 22, 2002
March 22, 2002, Greencastle, Ind. - DePauw University will honor six distinguished individuals with honorary degrees this spring, five at commencement on Sunday, May 19, 2002, and another at the alumni convocation Alumni Reunion Weekend, Saturday, June 1.
Receiving honorary degrees at DePauw's 163rd annual commencement ceremony will be:
Elaine L. Chao - Doctor of Public Service. The U.S. Secretary of Labor and the first Asian American woman appointed to a President's cabinet in the nation's history, Ms. Chao (pictured at top left)
will also deliver the commencement address.
Nancy Ford Charles '57 - Doctor of Fine Arts. Composer of the music for the off-Broadway show, Now is the Time for All Good Men, Ms. Charles also has been a staff scriptwriter for daytime television serials. She collaborated with Gretchen Cryer on four Broadway stage musicals, and has performed her own songs in concert, cabaret, and on television. Nancy Ford Charles has received many awards over the years including the Outer Critics Circle Award, Drama Desk Award, Obie Award, a Grammy nomination, two Writers Guild Awards, and two Daytime Television Emmys.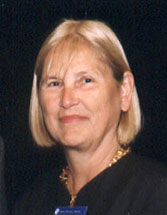 Norine Goode Johnson '57 - Doctor of Science. The ninth female president of the American Psychological Association, Dr. Johnson is a scientist-practitioner in full-time independent practice and the owner of four psychology businesses. In 1999, Johnson was the recipient of the Massachusetts Psychological Association's Career Contribution Award, and she also received a 1998 Distinguished Leader for Women in Psychology Recognition Award from the American Psychological Association's Committee on Women in Psychology, and Massachusetts Psychological Association's 1988 Ezra Saul Award. (photo of Dr. Johnson by Nita Winter)
John F. McWethy '69 - Doctor of Journalism. The chief national security correspondent for ABC News since 1984, Mr. McWethy reports on military and diplomatic aspects of U.S. foreign policy, primarily from the Pentagon. In addition to his daily coverage for World News Tonight with Peter Jennings, he also files stories for Nightline, Good Morning America and other ABC broadcasts. McWethy has received three National Emmy Awards for his reporting on Ross Perot, the Persian Gulf War and the Soviet military. He is a recipient of the Alfred I. duPont-Columbia Award. (photo by Fred Watkins/ABC)

Glenn M. Swisher - Doctor of Humanities. An Indiana business and political leader, Mr. Swisher is the retired chairman and chief executive officer of Syndicate Systems, Inc., and is currently president of the Indianapolis-based Swisher Foundation. While focusing its support on medical research and development, the Foundation also has been highly supportive of higher education in Indiana and Kentucky, including the Independent Colleges of Indiana, DePauw University and Cumberland College. Mr. Swisher, who also serves on the board of directors of Ivy Tech Foundation, was named 1990 Individual Philanthropist of the Year by the Indiana Chapter of the National Society of Fund Raising Executives. Swisher's political activities include service on Indiana's 12-member Electoral College in 1992.
On Alumni Reunion Weekend in June, an honorary degree will be awarded to:
George A. Shearing - Doctor of Music. A pianist, composer and bandleader, Mr. Shearing has been making joyful music for six decades. In 1949, Shearing received an unprecedented reception with his recording of September in the Rain which introduced a completely new sound and approach to modern jazz. Shearing wrote what would become a standard and his most famous composition, Lullaby of Birdland, in 1952. Throughout the 50's, 60's and 70's, the George Shearing Quintet enjoyed continued popularity, recording with various small groups that included Joe Pass, Toots Thielemans, Cal Tjader, Nat King Cole, Peggy Lee and Mel Torme, among others. Shearing remains active and is considered one of the best-known musicians in jazz. He is married to Eleanor (Geffert), a 1955 DePauw graduate.
DePauw University's 163rd annual commencement ceremony is scheduled to take place Sunday, May 19, 2002 at 1 p.m. on the grounds of historic East College.
Back