Ubben Chairs to Honor Professors Turk, Welch and Winsey
March 25, 2002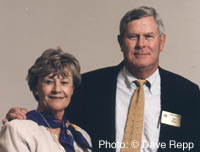 March 25, 2002, Greencastle, Ind. - Through the generosity of Timothy H. and Sharon (Williams '58) Ubben '58 (photo at left), DePauw will inaugurate three endowed chairs honoring deceased faculty members in the departments of art, biology and modern languages who distinguished themselves in teaching and in service to the discipline and the University. The Ubbens established an endowment in 2000 to name 15 faculty chairs to honor professors who have passed away, but who enriched the institution and its students over the years.
The Ubbens chose to honor Laurel H. Turk (photo at right) by naming the chair in modern languages. Turk, the Alfred F. and Ada C. Bridges Professor of Romance Languages, taught at DePauw for 40 years and was head of the Department of Romance Languages from 1963 until his retirement in 1968. He was the author or co-author of 39 textbooks. In 1965, the Spanish government presented him with one of its highest honors, Comendador de la Orden del Merito Civil (Knight Commander of the Order of Civil Merit) for his contributions to the teaching of Spanish and Spanish culture. Turk received his undergraduate degree from the University of Missouri, master's degree from the University of Kansas and doctoral degree from Stanford University.
Nominations from alumni and current and emeritus faculty were sought in naming the other two chairs. As a result, Winona H. Welch and A. Reid Winsey were selected for recognition through named chairs in the departments of biology and art, respectively.
Winona H. Welch (at center in photo at left) was graduated from DePauw in 1923 and received a master's degree from the University of Illinois and doctoral degree from Indiana University. In 1930 she returned to teach at DePauw, later becoming the head of the botany and bacteriology department – the first woman to hold that position in the sciences at DePauw. She also was the first woman elected president of the Indiana Academy of Sciences. An internationally known authority on mosses, Welch retired from the faculty in 1961, although she continued to teach on a part-time basis.

A. Reid Winsey (photo at right) joined the art department in 1935 and served as its head for the next 35 years, until his retirement in 1970. During his tenure, the art program became a separate and flourishing academic department. Following retirement, he continued to teach part-time in the area of African art. The author of Drawing Simplified and Freehand Drawing Manual, Winsey had in 1932-33 worked as first assistant to Thomas Hart Benton, preparing the Indiana mural for the Chicago Word's Fair. He received B.S. and M.S. degrees from the University of Wisconsin.
The faculty members appointed to hold these chairs will be announced at the

second Annual Assembly of the Timothy H. and Sharon Ubben Society of Teacher-Scholars and Faculty Recognition Dinner, which is scheduled April 19. This annual event provides an opportunity to recognize the accomplishment of faculty members and donors who have provided support for faculty programs.
The first three Ubben chairs were announced in 2001 and are named for A.W. Crandall (history), Hiram L. Jome (economics) and Percy L. Julian '20 in honor of Donald J. Cook (chemistry).
Back