1991 Graduate Took Team to Second Round of This Year's 'Big Dance'
March 26, 2002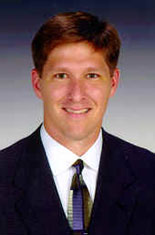 March 26, 2002, Greencastle, Ind. - If you looked closely when the CBS cameras panned the sidelines of the North Carolina Wilmington-Indiana game ten days ago, you might have seen a familiar face. As Terry Hutchens wrote in the Indianapolis Star, "Wilmington associate head coach Brad Brownell is very familiar with Indiana basketball. Brownell played his high school ball at Evansville Harrison, graduating in 1987. Brownell was a senior when teammate Calbert Cheaney was a sophomore. He then played at DePauw, graduating in 1991."
The article notes that Brownell spent a year as an assistant to Jim Crews at the University of Evansville, and two alongside former DePauw head coach Royce Waltman at the University of Indianapolis.
Wilmington was defeated in that second round game by Indiana, which is now in the final four. Before his team battled the Hoosiers, Brownell offered this assessment. "You have a great mix of what the Indiana teams that were really good used to have, which is a lot of Midwestern kids, several kids from Indiana,

that really know how to play. They really play hard, they're physical and really do a good job."
You can read the Star's story at the newspaper's web site by clicking here. Access Coach Brownell's biography at the UNCW web site, accessible here.
Back