Prof. James Cooper Co-Authors Proposal to Save Bridges
March 31, 2002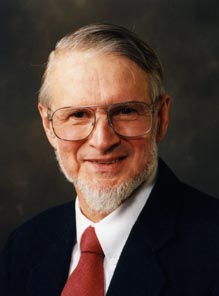 March 31, 2002, Greencastle, Ind. - An Associated Press article on a proposal that's aimed at preserving a number of historic bridges throughout the state of Indiana quotes an emeritus professor who helped draft the plan. "'It would be a different way of doing things,' said the proposal's co-author, James Cooper, a retired DePauw University history professor who has written two books about Indiana's historic bridges."
The plan Cooper drafted with Stephen Weintraut, a West Lafayette consulting engineer, would create "a state committee of engineers, preservationists and county commissioners. The panel would commission a professional study of about 1,000 Indiana bridges that are eligible for inclusion on the National Register of Historic Places." The AP article adds, "A so-called "untouchables list" of 250 to 350 bridges would be adopted, and any threat to them would bring a full federal review."
The story continues, "The goal, Cooper said, would be to preserve a selection of the historic wooden, iron,
stone and concrete bridges owned by Indiana counties for aesthetic, economic and educational reasons. Nearly 100 are covered bridges."
The proposal has been unanimously endorsed by the Indiana County Highway Engineers and Supervisors Association. You can read the entire story at the Indianapolis Star's web site by clicking here.
Back