Richard Peck '56 to Receive National Humanities Medal
April 4, 2002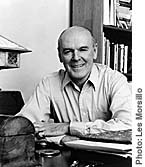 April 4, 2002, Greencastle, Ind. - President George W. Bush has announced that author and 1956 DePauw graduate Richard W. Peck will be one of eight recipients of a 2001 National Humanities Medal, to be presented by the President and First Lady Laura Bush, honorary chairman of the President's Committee on the Arts, at a ceremony this month. Other recipients include author Tom Wolfe, historian and writer William Manchester, teacher and literacy advocate Sharon Darling, and historical illustrator Jose Cisneros.
An announcement from the National Endowment for the Humanities states, "Richard Peck has written more than 25 novels and is recognized as one of America's most respected writers for young adults. His awards include the American Library Association' s 1990 Margaret A. Edwards Award and the University of Southern Mississippi's 1991 Medallion Award. Several of his novels have appeared on the American Library Association's list of Best Books for Young Adults, and five have been made into television movies. His Depression-era novel, A Long Way from Chicago, was a National Book Award finalist, and its sequel, A Year Down Yonder, won the 2001 Newbery Medal. He taught high school English and was assistant director of the Council for Basic Education."

[DOWNLOAD AUDIO: "Peck on DePauw" 603KB] DePauw "made a writer out of me," Peck said after winning the Newbery, the American Library Association's top award for children's literature. "It warned me never to show my rough draft to anybody. That helps. I write each of my books six times because I have to, and it's the sixth version my editor sees and nothing before that. I learned that from DePauw professors."
In an Associated Pressinterview, Peck stated, "my cause and my joy is writing for younger teens - middle school is the age at which we lose most people to reading... This is the age at which parents stop attending PTA meetings, and I want to be there, to encourage reading."
The former school teacher says,
[DOWNLOAD AUDIO: "On Leaving Teaching" 523KB]"I used the coming of the age of 40 as a goad. I said, 'If I'm still here (teaching) at the age of 40, I'll be a prisoner of the pension plan. If I don't do it now (write full-time), I'll never do it.' There are people who say, 'I'm going to write a book after I retire.' I doubt it."
Peck spends about a quarter of his time on the road talking with young people about themselves, their problems and their concerns, and says he always makes a point of including older characters in his children's books. "This is a generation of young people who no longer have to write thank-you notes for gifts from grandparents, and so they rob themselves of their own roots," he told the AP. "I give them elders - an eccentric cast of strong grandparental figures."
[DOWNLOAD AUDIO: "More on Role Models" 558KB]
Richard Peck's latest book, Fair Weather, which tells the story of the visit of three farm children to the 1893 Chicago World's Fair, was released in September 2001.
In addition to the bachelor's degree he received from DePauw in 1956, Richard Peck was awarded an honorary doctor of letters degree in 1999. He has endowed the Richard W. Peck Chair in Creative Writing, currently held by associate professor of English Tom Chiarella.
Back