Prof. Dennis Trinkle's Latest Book is Guide to New Turns on History Highway
April 4, 2002
April 4, 2002, Greencastle, Ind. - History Reviews Online calls DePauw University Professor Dennis A. Trinkle's The History Highway a "first-of-its kind work (that) seems destined to become a standard and indispensable work for anyone who works with or enjoys history."
The third edition of the book, The History Highway 3.0: A Guide to Internet Resources, edited by Trinkle and Scott A, Merriman of Northern Kentucky University, has just been published by M.E. Sharpe. A guide to history sites on the Internet, the 672 page book is accompanied by a CD-ROM. The series has been called "the best in its class" by History Computer Review. The Historian states, "professionals and students alike will benefit from the breadth of coverage in this book."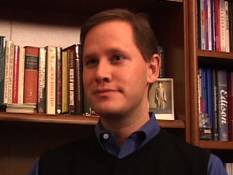 A 1991 graduate of DePauw, Dennis Trinkle is associate coordinator of information services and technology and Tenzer University Professor in Instructional Technology and serves as executive director of the American Association for History and Computing (access the organization's web site by clicking here). Dr. Trinkle received his M.A. and Ph.D. from the University of Cincinnati. His previous books include History.edu: Essays on Teaching with Technology, The History Highway 2000, and Writing, Teaching and Researching History in the Electronic Age: Historians and Computers.
The History Highway 3.0 is available in hardcover (click here) and softbound (click here) from Amazon.com. Barnes & Noble.com offers the softbound edition (click here).
You can see video clips, hear audio, and read about Dennis Trinkle's recent appearance on the statewide television program Inside Indiana Business by clicking here.
Back