Journalism at DePauw Rates Two Indianapolis Star Stories
April 6, 2002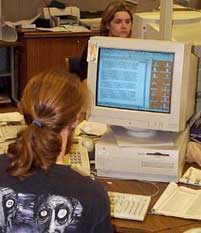 April 6, 2002, Greencastle, Ind. - As current and former staff members of The DePauw gather on the Greencastle campus this weekend to celebrate the newspaper's 150th anniversary, the Indianapolis Star is taking note. Today's edition contains two articles about DePauw journalists. An article entitled, "A storied publication: After 150 years, DePauw paper has made a name for itself as a starting point for top-notch journalists" includes several photos of The DePauw's current staff, and states, "Former staffers include a Pulitzer Prize winner and editors at some of America's best-known newspapers. Some of them are on the Greencastle campus this weekend to mark the 150th anniversary of The DePauw and its predecessors."
The Star's Marcella Fleming talked with current editor Eric Aasen and reporter Brandon Sokol for the story, which includes a timeline of the newspaper's history and a listing of some of its best-known alumni. You can access the article online by clicking here.
Another story, by Star TV-radio critic Marc Allan, profiles John McWethy, ABC's senior national security correspondent and a 1969 DePauw graduate, who is among the alumni of The DePauw in Greencastle this weekend. McWethy, who's been on the national security beat for 22 years, asks, "Is our world today more or less stable than it was then? It's just different. Today, the United States holds many more cards, and the United States is left alone at the top of the pyramid, which gives us not only tremendous power but tremendous responsibilities."
McWethy adds, "We are blessed. We are so blessed. But with the blessings comes awesome responsibility."
The story notes McWethy's return to DePauw, and promotes his appearance as part of a panel discussion that took place Saturday morning. The ABC veteran tells Allan that national security reporters, "have been quite frustrated at what we are allowed to know about this war. But that's a tension that always exists in times of conflict. In this particular conflict, I would say the public is 99 percent in favor of the way the administration is keeping information from the press. On the other hand, the public needs to know what is happening in this conflict. They need straight answers when things are not going right. And they need to know what it is costing. Thus far, the administration has not told us at what price is the United States operating out of Pakistan, Uzbekistan, Kyrgyzstan. What is the agreement the United States has made with these countries? I would say that we should know that. What promises have we made to these governments, often governments that are tough, dictatorial governments?"
You can read the entire article at the Star's web site by click here.
A story on the keynote address By Bob Giles '55 at a dinner marking The DePauw's 150th can be accessed by clicking here. Back