What Are You Eating? Mad Cowboy Shares His Thoughts Wednesday
April 8, 2002
April 8, 2002, Greencastle, Ind. - How does a fourth generation cattle rancher who loved meat become a complete vegetarian (vegan) and crusader who informs Americans about the consequences of eating meat and using modern, chemical-dependent methods of farming? You can find out this Wednesday, April 10, 2002 at 7 p.m., when Howard F. Lyman, a food safety expert and author of Mad Cowboy : Plain Truth from the Cattle Rancher Who Won't Eat Meat speaks in Watson Forum of DePauw University's Pulliam Center for Contemporary Media.
Lyman is the founder of the non-profit organization "Voice for a Viable Future," which is designed to educate people about organic sustainable agriculture and the dangers of current methods of food production. He is also the former president and current board member of EarthSave International, a non-profit organization that promotes food choices that are healthy for people and the planet.
As a senior lobbyist for the progressive National Farmers Union, Lyman helped to launch the Farm-Labour Coalition, which played a decisive role in persuading Congress to enact the National Organic Standards Act. As national director of Eating with Conscience, Lyman led an educational campaign undertaken by the Humane Society of the United States to encourage Americans to eat a more plant-based diet.
Lyman has also been involved with the Beyond Beef Campaign whose aim was to reduce American beef consumption by 50 percent. His 1996 appearance on Oprah! led Texas ranchers to unsuccessfully sue Lyman and Ms. Winfrey for comments made expressing concerns about the safety of beef and the threat of mad cow disease.
Lyman's message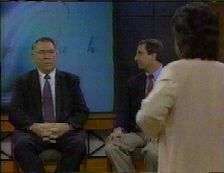 remains the same; If there is to be a bright future for our children and grandchildren, it will come from consumer support of producers who work in concert with nature-organically, sustainably, and humanely. "The right road begins with individual action. The first thing each of us can do is to pick up our fork and make a commitment to take the animals off of it," he says. "The second step is to spend your money with the good guys: Buy Organic. What we are doing with chemical agriculture today is unsustainable."
Howard F. Lyman's DePauw visit is being sponsored by the Ida W. and Ira J. Wright Memorial Fund for Nonviolence. The speech is free and open to the public.
Back