Andrew W. Mellon Foundation Grant Will Establish DePauw-Led Collaboratory for Mediterranean Archaeology
April 8, 2002
April 8, 2002, Greencastle, Ind. - The Andrew W. Mellon Foundation has awarded DePauw University a grant in the amount of $197,000 for the establishment of a Collaboratory for GIS and Mediterranean Archaeology (CGMA). The CGMA project will be directed by Rebecca K. Schindler and Pedar W. Foss, assistant professors in Classical Studies at DePauw University (seen in photo at left). It is an inter-institutional, interdisciplinary program of undergraduate seminars, summer research internships, student-faculty workshops and work-study grants to begin building an Internet-based Geographic Information System for archaeological field survey projects.
Being the first Mediterranean-wide GIS registry of this kind, it will provide a functional framework for broad studies of the interactions of humans and their environments in antiquity. A publicly-accessible Web interface will make it possible to locate, identify, query and map archaeological field surveys carried out in the Mediterranean region. CGMA is designed to become an important research tool, a teaching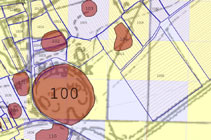 resource, and a platform for discussing the problem of comparing, combining and sharing raw archaeological data from different field projects.
Student-faculty cooperation is at the heart of the project. CGMA seminars will instruct students in the use of geographic information principles and techniques, archaeology and information technology, and the methods and theories of primary and secondary archaeological research. Students will also work with faculty to build the GIS database, infrastructure and delivery system. The project will involve students and faculty from four liberal-arts institutions: DePauw University, in Greencastle, Indiana (led by Schindler and Foss), Millsaps College in Jackson, Mississippi (Dr. Michael Galaty in the department. of Sociology/Anthropology), Rhodes College in Memphis, Tennessee (Dr. Kenneth S. Morrell in the department of Foreign Languages and Literatures) and The College of Wooster in Wooster, Ohio (Dr. P. Nick Kardulias in the Archaeology program and department of Sociology/Anthropology).
Every fall term from 2003-2006, an upper-level undergraduate seminar will be offered. "The professor in charge of the seminar will rotate amongst the four campuses and class will be conducted in real time over the Internet," Dr. Schindler says. "During the spring and summer months, students will have the opportunity to apply for research internships and work-study grants to continue working on the project.
Annual workshops will be held with the primary investigators, advisory board, and student participants to discuss the progress of the grant, data collection and formatting, and programming issues."
CGMA builds on DePauw's existing relationship with the ACS Archaeology Program (also funded by The Mellon Foundation). These two programs allow faculty and students at colleges like DePauw to collaborate in ways that traditionally were only possible at large research institutions. The new project will offer students in a variety of disciplines the opportunity to work with GIS, which has become increasingly important in geography, geology, economics, sociology, political science, and history, as well as archaeology.
Back