Electrical Appliances Caused Rector Fire
April 9, 2002
April 9, 2002, Greencastle, Ind. -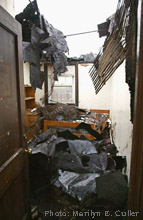 Sunday's fire at DePauw University's Rector Hall was caused by electrical appliances, but fire investigators say they cannot pinpoint the exact appliance that sparked the flames. The official determination of the cause is "undetermined" says Indiana State Fire Marshal Tracy Boatwright. He tells the Indianapolis Star that's because "there's nothing we can put our finger on and say it was this stereo, or this TV. A lot of the electrical appliances were destroyed and can't be found. But we're very satisfied that it's an undetermined fire of an electrical nature."
The Star's Scott MacGregor writes, "Investigators could not determine if the fire started because of a spark, an overloaded circuit or a malfunctioning appliance, Boatwright said. Officials looking at the room on Monday noted a badly burned electrical outlet as a possible cause." You can read his entire account online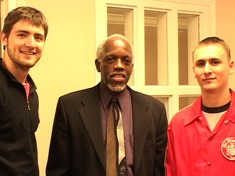 by clicking here. FOR LATEST PARENT & STUDENT INFORMATION CLICK HERE
The incredible outpouring of support for the students displaced from DePauw University's Rector Hall continues, from fellow students, faculty, alumni, the people of Putnam County, and even a group of young men from 30 miles north who are viewed as "the enemy" each fall. Without notice, Wabash College juniors Brian Lawlor and Justin Dirig drove a $1,000 check for the Rector Fire Fund for Displaced Students to DePauw, where they presented it to vice president of student services James Lincoln (pictured l-r are Dirig, Lincoln and Lawlor).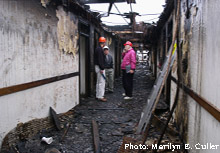 The donation comes from the Wabash Student Senate, of which the students are members. Lawlor says the budget had some extra money, and
[DOWNLOAD VIDEO: "Brian Lawlor" 542KB]
[DOWNLOAD AUDIO: "Brian Lawlor" 247KB] "I e-mailed the Student Senate and thought, this would be a great idea (to contribute to the Rector Fund) and I didn't have one person say no and everyone said 'give them more if we can.'"
[DOWNLOAD VIDEO: "Justin Dirig" 619KB]
[DOWNLOAD AUDIO: "Justin Dirig" 283KB]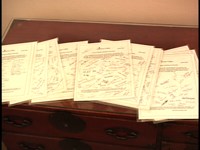 "Of course there's a rivalry,"Dirig added, "that's friendly and on the football field and we were really devastated to hear that such damage had been done here, so we thought we would come down with what little help that we could offer." Wabash is also collecting school supplies, shoes and other items for the displaced students.
Meanwhile, Manchester College sent expressions of support from its students, faculty and staff, which filled about a dozen sheets of paper. In an accompanying letter to DePauw President Robert G. Bottoms, Manchester's Vice President and Dean of Academic Affairs, Jo Young Switzer, wrote, "September 11... reminded us that we are all connected. When another campus suffers, we are reminded that it could have been us.
When another campus celebrates, we celebrate with them. We are deeply thankful that no students were hurt."
Students, with the help of professionals brought in by the University, are removing their personal possessions from Rector Hall today. The first through third floors are open. The charred fourth floor remains closed to students. The 116 students who lived in Rector have been relocated to other housing, mainly fraternities, sororities and other residence halls.
"Her room was a tangled mess of charred wood and steel Monday -- Ground Zero in one of DePauw University's worst catastrophes in decades.
But Kristen Speer cried only when she thought about the pictures of friends she'd lost in the fire that severely damaged 85-year-old Rector Hall on Sunday," wrote Scott MacGregor in this morning's Indianapolis Star. In the story, entitled "DePauw students pick up the pieces," MacGregor, a 1995 graduate of the University, adds, "Jon Day, a sophomore from Indianapolis who lived on the third floor, was pleasantly surprised to find most of his stuff in perfect shape. 'It's not nearly as bad as I thought it was going to be.'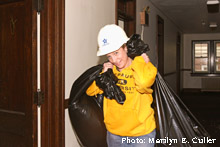 But for Speer and other fourth-floor residents, little was left."
Greencastle Fire Chief Bill Newgent tells the Star he believes Rector Hall is salvageable, and can be rebuilt. "This is a landmark for DePauw University," he said.
You can read the article in its entirety by clicking here.
Back