Record Number Expected at This Weekend's Admitted Student Open House
April 11, 2002

April 11, 2002, Greencastle, Ind. - A record number of high school seniors and their parents will descend upon the DePauw campus this weekend in what has been a record year for applications to the University. Six hundred and thirty-six students and their families made advance reservations for the annual Admitted Student Open House, the
[DOWNLOAD AUDIO: "Capstone Event" 169KB] "capstone event for the admission program at the end of what's been a terrific admission season for us," according to Madeleine Eagon, vice president for admission and financial aid.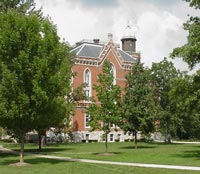 [DOWNLOAD VIDEO: "Largest Ever" 243KB]
[DOWNLOAD VIDEO: "Final Look" 355KB]
[DOWNLOAD AUDIO: "Final Look" 167KB] "We see continued evidence that there's lots of interest in DePauw. And it is, for families, kind of their last formal opportunity for a big look-see at the campus before they have to make a decision on May 1."
As of today, 405 students have decided to enroll at DePauw in the fall, up fifty students from last year at this point.
On Wednesday of this week alone, 39 enrollment deposits were received by the admission office, "an incredible number," according to Eagon. As DePauw has 630 openings, next year's class is already two-thirds full. "We feel confident that we'll probably fill right around May 1," Eagon says.
DePauw President Robert G. Bottoms will addresss the opening session of the Admitted Student Open House, as will 1994 graduate Kevin Eskew, who will reflect on his DePauw experience and the role it played in the uncommon success he enjoys in his life and career as a consultant.
[DOWNLOAD AUDIO: "Eagon on Interactions" 775KB] Prospective students will also be able to interact with current students, faculty and alumni and learn about DePauw's academic programs, internships and student life, and how they've translated to success for graduates.
Eagon says DePauw's increasing national profile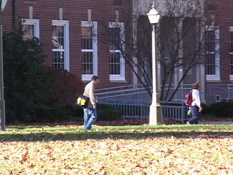 and ranking as a top tier national liberal arts college and "best value" by U.S. News and World Report have not only attracted a record number of applicants again this year, but students who have even better grades, test scores and extracurricular involvement than their predecessors.
[DOWNLOAD AUDIO: "Best Ever" 315KB] "The academic quality of the students continues to be very strong. It looks to be our best academic class ever."
Back