DePauw Student Television is Backdrop for Star Look at Burly Bear Network
April 13, 2002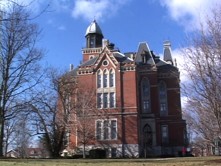 April 13, 2002, Greencastle, Ind. - DePauw University's student television operation CCM3 provides the backdrop for a story in today's Indianapolis Star entitled, "Burly Bear Network reaches out for college audience." The article by TV/radio critic Marc Allan profiles Burly Bear, "which is piped into housing in and around 450 college campuses across the country -- including Indiana University in Bloomington, Purdue University, Ball State University and six other Indiana schools -- and also shown for an hour at 1 a.m. Thursdays and midnight Fridays on TBS."
For his story, Allan made a trip to Greencastle. He writes, "At DePauw University, Burly Bear programming is used to supplement the school's in-house productions. The network has made some inroads with the students, although how much remains in question. A study done for the telecommunications-management class taught by Dave Bohmer found that 52 percent of students had heard of Burly Bear, ranking it third among the programming on DePauw's CCM3(Channel 3), which also airs student-made productions."
The article continues, "While awareness of Burly Bear was reasonably high, finding students who watched its shows was another matter. Ben Hardaway, the student general manager of DePauw's Channel 3, went looking and found that 'there were people who knew what it was, but the students didn't watch it.' Was he surprised? 'Not really. Being a realistic person and dealing
with TV for the last four years, it didn't surprise me at all that people had heard of it through flipping or they'd seen brief minutes of it but didn't watch it on a consistent basis. It's always natural to flip over something you don't recognize that well, especially when you consider that (Channel 3 is) in the middle of CNN, NBC, CBS, ABC, Fox. When you flip, we're that oddball that sits between.'"
Allan's story also quotes DePauw sophomore Michael McIlraith and 2000 graduate Clay Cox. You can read the article in its entirety by clicking here.
Source: Indianapolis Star
Back