Ghana's Master Drummer Bernard Woma to Perform, Lead Workshop This Week
April 23, 2002
April 23, 2002, Greencastle, Ind. - Bernard Woma, solo xylophonist and principal master drummer with the Ghanaian National Theatre, will be on the DePauw University campus this Thursday and Friday, April 25-26 for a pair of events. Woma's visit is made possible by the DePauw School of Music, Black Studies and the Office of Academic Affairs.
On Thursday at 7 p.m. in the Lilly Center's auxiliary gym, Bernard Woma will present a workshop on African drumming and dance, open to everyone, regardless of previous experience. You're invited to simply watch, if you're not anxious to show off your drumming or dancing skills.
Friday at 7:30 p.m., Woma will perform in Watson Forum of the Pulliam Center for Contemporary Media. He'll be assisted by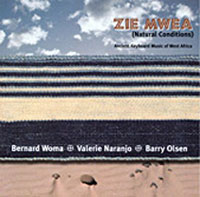 associate professor of cello Eric Edberg and other DePauw faculty, students and staff who attend Thursday' workshop.
Both events are free and open to the public.
You can learn more about Bernard Woma, whose latest CD is entitled Zia Mwea (Natural Conditions) at his website, accessible by clicking here.
Back