The Week Ahead Offers 12 Free Concerts
April 26, 2002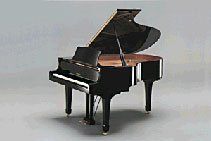 April 26, 2002, Greencastle, Ind. - The week of April 29 will be the busiest of the semester for DePauw University School of Music concerts with twelve opportunities to enjoy great performances. All are free and open to the public.
It all begins with a class presentation on Monday at 7:30 p.m. in Thompson Recital Hall of the Performing Arts Center, when the vocal chamber music class of Barbara Paré presents An Evening of Duets.
On Tuesday, April 30, at 8:30 p.m. in Thompson, Gary Carroll, clarinet, and Rachel Taylor, flute, present a student recital of music that includes Mozart, Schumann, and Ibert.
Wednesday, May 1, has two performances in Thompson Recital Hall, the first at 3 p.m. by the 20th Century Music Literature class of Carla Edwards, associate professor of organ and music. At 7:30 p.m., Katrina Cline, soprano, will perform.

Thursday in Thompson, Dr. Edwards' class will give a second performance of 20th century music at 3 p.m. At 7:30 p.m., the musical theatre class presents Some Sondheim, Please!
On Friday at noon in Thompson there will be a recital featuring students Eugene McGhee, Chelsea Whyte, Contessa Gibson, and Jennifer Bradfield, and at 7:30 will be a performance by the student choral group Schola Cantorum.
Student pianist Brad Whiteley will present a solo recital in Thompson at 3 p.m. on Saturday, May 4, in Thompson, and then at 7:30 composition students of Professor James Beckel will give their class presentations, along with a student instrumental chamber ensemble performing Brahms.
The last large ensemble concert of the semester will take place Sunday, May 5, at 3 p.m. in Kresge Auditorium, when the DePauw Festival Choirs and the DePauw Symphony Orchestra present Brahms' Ein Deutsches Requiem (read more here). Finally, Sunday night at 7:30 p.m. senior Stephanie Lin will present a piano recital in Thompson.
Back