WGRE Wins Two Society of Professional Journalists Awards
April 28, 2002

April 28, 2002, Greencastle, Ind. - DePauw University's student-managed and operated WGRE-FM, consistently ranked as one of America's top college radio stations by Princeton Review, picked up two first place awards at this weekend's awards banquet sponsored by the Indiana Professional chapter of the Society of Professional Journalists. The awards honored work that was published or broadcast in 2001, and DePauw's entries competed with those from other colleges, larger and smaller, around the state. SPJ (formerly known as Sigma Delta Chi) was founded on the DePauw campus in 1909.
Student journalists Lindsay Cornelius, Ashley Hedges, Meredith Miles, Kara Smith and Jake Wissing were awarded a first place award for Best Radio Documentary or Series for "U.S. 231."
Todd Morgan, Christopher May and Nicholas Shawver took home a first for Best Radio Feature for their "Monon Bell Pregame" coverage.
Besides annual recognition by the Princeton Review,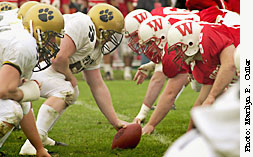 WGRE also has been a finalist for the National Association of Broadcasters "Crystal Award" three times. From its beginnings, the station has been completely student-run, with a student board of directors overseeing the operations. Among the many prominent American broadcasters and public figures whose roots can be traced to WGRE are: ABC News senior national security correspondent Jack McWethy '69; CNBC financial analyst Tim Tindall '89; Bayard "Bud" Walters '63, president of The Cromwell Group of broadcast stations; Indiana Secretary of State, Sue Anne Gilroy '70; Erik Sorenson '77, president and general manager of MSNBC; WLS-TV Chicago news anchor Rob Johnson '90 and former U.S. Vice-President Dan Quayle '69. Today, about 200 DePauw students work at the radio station.
You can learn more about WGRE, and link to live streaming audio of the station, here.
Back