Pulliam Professor's Op-Ed on Reporting Standards Published in Indianapolis Star
April 29, 2002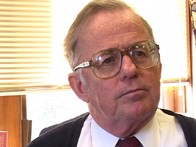 April 29, 2002, Greencastle, Ind. - "Readers of newspapers and viewers of television ... are bombarded with anonymous sources from Washington to Wall Street and assaulted by opinion masquerading as news," writes David Hall, Eugene S. Pulliam Distinguished Visiting Professor of Journalism at DePauw University, in Sunday's Indianapolis Star. His op-ed piece continues, "Journalism has become a rodeo for readers. Journalists do not ride the bull, however: they lash their readers to the beast. And readers are tired and surely frustrated: Who can believe these performances or the reliance on anonymous sources to prove whatever angle the journalist has in mind?"
The essay, which is headlined "Reader trust requires raising reporting bar," touches on the issues raised in Hall's recently published examination of Reporting Standards, the first in a series entitled "Directions in Journalism".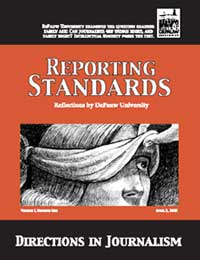 "Journalism in any medium depends on reporting," the Pulitzer Prize-winning former newspaper editor writes in the Star. "Readers expect high standards. They expect verification and honest dealing. Are news organizations meeting these standards?"
Later, Hall writes, "Journalists who are not only careful but also intellectually honest have a head start on those who try to play tricks with readers: tricks like Washington's blatant cynicism over anonymous sources that asks readers to trust distrust."
You can read David Hall's commentary in its entirety at the Star's web site by clicking here.
Read more about Reporting Standards, access audio and video of Hall, and download a PDF file of the first "Directions in Journalism" by clicking here.
Source: Indianapolis Star
Back