As Spider-Man Opens, DePauw Prof. Quoted in Christian Science Monitor
May 3, 2002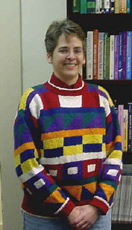 May 3, 2002, Greencastle, Ind. - An article in today's Christian Science Monitor, entitled, "Stuck on superheroes ; Spider-Man opens today. why do fantastic heroes from comic books remain so popular?," includes comments from DePauw University assistant professor of sociology Kelley Hall.
In the story, which appears on page 13 of the paper, Stephen Humphries writes, "These days, video-game-savvy kids would rather spend time with the XBox than the X-Men. And instead of catching waves with the Silver Surfer, the only surfing they're interested in is of the Internet kind. But, starting with today's release of Spider-Man, a whole league of superheroes is fighting back."
Later, he writes, "An event like Sept. 11 starkly illustrates the difference between fantasy and the real world. No Superman swooped in to prop up the collapsing twin towers. No Batman scoured the caves of Tora Bora for terrorists. 'For the few months after [Sept. 11] ... we didn't need or want to fantasize about these superhuman people because we had regular citizens do

ing these extraordinary things,' says Kelley Hall, a sociologist who teaches a course on 'Comic Books and American Society' at DePauw University in Greencastle, Ind. 'You don't need a red cape to be a hero in terms of 9/11.' "
You can read the article in its entirety at the Monitor's Web site by clicking here.
Source: Christian Science Monitor
Back