Record Admission Season Ends with 709 Commitments from New Students
May 3, 2002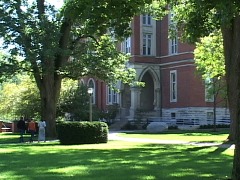 May 3, 2002, Greencastle, Ind. -
[DOWNLOAD VIDEO: "Terrific Season" 211KB]
[DOWNLOAD AUDIO: "Terrific Season" 121KB] "Everyone here at DePauw, especially the admission and financial aid staffs, are really pleased because we've ended up with a terrific admission season," said vice president of admission and financial aid Madeleine Eagon as she announced that a record year for applications for enrollment to DePauw University has yielded a record result. As of this morning, paid deposits has been received by 709 of the students accepted for admission to DePauw. The University, which was seeking an incoming class of 630, will return any deposits that arrive postmarked after the May 1, 2002 deadline date.
Eagon says no students from the waiting list have been accepted, and that the Class of 2006 is now closed.
[DOWNLOAD AUDIO: "The Class is Full" 468KB] "The class is full... anyone whose deposit [is postmarked] later, we're unfortunately going to have to go back to and say, 'I'm sorry, we can't help you.' And we're also writing today to all the students that w
ere on our wait list, indicating that we're not going to be able to help them, and we're sorry but there simply aren't any places," Eagon said.
History suggests the final number of new students who arrive on campus next fall will be well below today's number. Last May, 670 students committed to DePauw. By August, the total had slipped to 632 (two above the class the University was initially seeking). Eagon believes the yearly phenomenon known as "summer melt," which affects every college, will again be a factor this year. "You know that there will be some attrition over the summer," Eagon stated.
That said, the University is moving forward to ensure that every new student, regardless of the Class of 2006, will arrive on campus to find top-notch accommodations and opportunities for learning. Officials moved quickly to find accomodations for 116 students displaced by the April 7 fire at Rector Hall, which houses upperclass students (read more by
[DOWNLOAD VIDEO: "Committed to Quality" 385KB]
[DOWNLOAD AUDIO: "Committed to Quality" 204KB] "The residence hall staff had already been planning how they would accommodate new students,
and now they're thinking ahead about how they will accommodate a few more. The University is committed to a quality residential environment for all students."
This year, DePauw received a record 3,750 applications from 47 states and 30 countries, and accepted the smallest percentage in the University's history. Students applied from 1,340 high schools around the world. Students of color comprise 20% of the admitted pool. Eagon says the 709 who have committed to DePauw represent the
[DOWNLOAD VIDEO: "Big Splash" 472KB] "I think alums would look at our entering class and feel very good about the young men and women who are choosing DePauw. They're not just strong students, but they've been very strong contributors in their communities... and we anticipate they're going to make a big splash when they arrive on campus."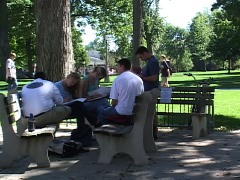 The admissions VP says its clear that DePauw is the first choice of an increasing number of high school seniors. Eagon says U.S. News & World Report's recognition of DePauw as a top-tier national liberal arts college and "best value" (
[DOWNLOAD VIDEO: "Desirability" 466KB]
[DOWNLOAD AUDIO: "Desirability" 254KB] "Admission might be viewed as a sort of 'litmus test' for a university. It's certainly not the measure of institutional quality, but it may be construed as a measure of institutional desirability," Eagon says. "The numbers are proof positive that DePauw is a desirable destination."
Back