Another Record Relay: $124k Raised!
May 5, 2002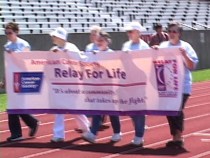 May 5, 2002, Greencastle, Ind. -
[DOWNLOAD VIDEO: "Unbelievable" 344KB]
[DOWNLOAD AUDIO: "Unbelievable" 160KB] "The outpouring here is just unbelievable," said 2002 Putnam County Relay For Life co-chair and DePauw University senior Ed Nightingale of the fund-raiser for the American Cancer Society. As the event, which began at noon Saturday at Blackstock Stadium, wrapped up Sunday, Nightingale announced $124,768 has been raised this year, a better than 50% increase over last year's record total. "There are more people here than have ever been here for a Relay, and I think it's because everyone believes in it, wants to be here and wants to help," Nightingale said.
Organizers say more than 1300 walkers lapped the Blackstock track for 24 hours, up from 830 walkers last year. Sixty-one teams registered last year; more than 100 helped to raise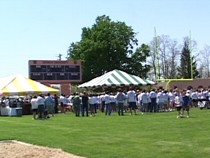 important funds this year. In May 2001, about $80,000 was raised by Relay, a growth of nearly 100% from the previous year. Co-chair Keith Brackney of Brackney's Western Store in Greencastle credits the community's dedication to another record-shattering year.
[DOWNLOAD VIDEO: "The Goal" 413KB] "We started [organizing the event] a while after September 11th, but it was close enough that we really didn't know what to expect. We set one goal, and then at the breakfast we raised that goal [to $100,000], and [greatly exceeded it]. We couldn't be happier," he said.
Besides opportunities for exercise and socialization, Relay For Life provides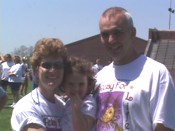 information on cancer prevention and detection, and food for participating walkers. Putnam County Relay For Life was founded in 1998 by then-senior Martin Kramer and raised more than $20,000. The 1999 total of approximately $30,000 was eclipsed by 2000's $42,000.
[DOWNLOAD VIDEO: "Continued Growth" 436KB] "We just keep getting unbelievable committee members that are looking for untapped areas of the community," Nightingale says. "We have campus organizations that haven't been involved before and a lot of new community teams to come on and help out." (BONUS CLIP:
[DOWNLOAD AUDIO: "Brackney on Teams" 241KB])
Relay For Life is an event that brings the people of DePauw and Putnam County together for a common goal: to fight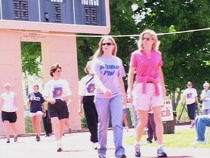 cancer. As that goal is being reached, new friendships are made and new understandings are reached.
[DOWNLOAD VIDEO: "Community" 416KB] "It's really one place where there are really no distinctions," Brackney says. "People don't care where they're from -- whether its DePauw or the community -- town and gown is out the window right now."
Plans are already in the works for the 2003 Relay For Life, and volunteers will be needed. If you're interested, contact student co-chairs Tricia Cooksey click here or Amanda Manning click here.
Back