DePauw Orchestra Director Conducts Star Wars 25th Anniversary Concert
May 13, 2002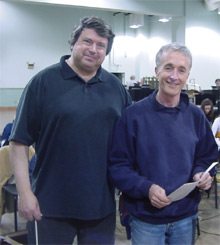 May 13, 2002, Greencastle, Ind. - "This was certainly an out-of-this world event in which to be involved," says music director of DePauw Orchestras, Orcenith Smith. The professor of music was one of two conductors to lead a 100-piece orchestra at "Star Wars Celebration II", the international convention held to commemorate the 25th anniversary of the original Star Wars movie and the upcoming release of Star Wars Episode II: Attack of the Clones. The event, which took place May 3-5, was held at the Indiana Convention Center in downtown Indianapolis, Saturday, May 4. (Smith is seen at top in rehearsals with Anthony Daniels, who portrayed C3PO in Star Wars)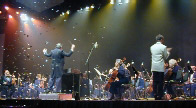 For the two hour concert, The Philharmonic Orchestra of Indianapolis, also conducted by Jackson Wiley, emeritus conductor of Butler University Orchestras, performed John Williams' famous music from all of the Star Wars movies to the sold-out audience of 2,500.
"Fans from around the world came to the convention in Indianapolis," says Smith. "There was so much demand for the concert tickets, only half the tickets were available each of the first two convention days. People were in line each day four hours in advance of box office opening. With actor Anthony Daniels as the master of ceremonies, the concert was a real hit!"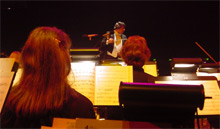 Featuring a light show and other dramatic effects, the concert saw the appearance of a legion of Storm Troopers, Darth Vader, and R2D2 (seen with Smith onstage at left). The DePauw conductor says, "Of course, the reason that people were at the concert was to revel in live performance of John Williams' wonderful music, which so powerfully underscores the character of the movies. It was such an honor to be a part of that music-making."
The performance received repeated standing ovations and the audience demanded and received several encores at the conclusion of the two-hour concert. The event received international attention, and clips from the concert, showing Smith conducting, aired on NBC's Today show.
Back