Fund for Impoverished Youth, Created by Two DePauw Students, Draws Paper's Attention
May 14, 2002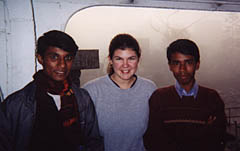 May 14, 2002, Greencastle, Ind. - "Remember Tiffany Hodge, the Evansville student who collected a record $640,245 in scholarship offers when she graduated from North High School in 1998?," begins an article in the Evansville Courier & Press about the DePauw University senior. "The high academic achiever has just been elected to Phi Beta Kappa, the nation's most illustrious honors society. And at 21, she has established a full-fledged endowment to help impoverished Bangladesh youths attend college. She's making the project a lifetime commitment."
The story by Courier & Press staff writer Carol Werisch continues, "Hodge, a DePauw University senior, and fellow DePauw student
Nicole Hallett of Bloomington, Indiana, learned of the plight of the overseas youths while helping at an orphanage on Bhola Island in the South Asian republic in January 2001 (Hodge is seen in photo at the top of this story with two students on a steamboat to Bhola Island). Their volunteer efforts, which included helping build a chicken barn at the orphanage, was the focus of a DePauw-sponsored Winter Term In Service project." (Photo at right shows Hodge and Hallett with two young friends from the orphanage. They have awarded a scholarship to the young man sitting down)
As a result of that experience, Hodge and Hallett established the Bangladesh Children's Educational Endowment. "We found some of the orphans were so incredibly bright and motivated, but they didn't have necessary means to go on with their education," Hodge told the newspaper of the motivation for creating the endowment. "It's still very small at $524. But, because it's very cheap in American money to go to college in Bangladesh,
we will be able to award possibly up to three scholarships for next fall."
Hodge plans to pursue a master's degree in religious studies at Indiana University. Hallett, a junior (seen at left), was recently awarded a Truman Scholarship, the second student to receive the honor in DePauw University's history (read more here).
You can read the article in its entirety at the Courier & Press' web site by clicking here.
Back