DePauw Mourns the Passing of Emeritus Professor Paul Kissinger
May 15, 2002
May 15, 2002, Greencastle, Ind. - A longtime faculty member known to several generations of DePauw students and alumni, Paul B. Kissinger, professor emeritus of physics and astronomy, died early today in London, England. Kissinger, 72, and his wife, Joanne, had been on a two-week vacation in France, and they were en route back to the United States when he suffered a heart attack.
Dr. K, as he was known to his students, joined the DePauw faculty in 1960. He taught 40 years in the physics and astronomy department until his retirement in May 2000. At that time, a story in The DePauw student newspaper quoted physics major Aaron W. Ellis '01 as saying, "Dr. K is one of the best professors I ever had at DePauw. His knowledge of physics is limitless. He's one of those professors that I'm glad to have had a class with, and you tell other people to take one of his classes just so they can know what he's like."
Kissinger left his mark on the University by instilling in students the same childlike excitement that he had for science. "It's like your mother told you: 'Just do your best and have fun.' I don't think most
students fully appreciate what that means," Kissinger said many times.
A self-described "eclipse chaser," Kissinger traveled the world to view eight total eclipses. Most recently, he traveled to Zambia in 2001 to view a total eclipse. Following that trip, he wrote an article in which he discussed that event and his fascination with eclipses. In the article, he said, "The last total solar eclipse within the U.S. borders occurred in 1979; and, only two more will cross the U.S. in the next 43 years. During the second of those wondrous spectacles, the DePauw campus will be an ideal location to view nature's most awesome phenomenon.
"On April 8, 2024, East College will be plunged into darkness with only the sun's corona lighting the campus. You can bet I'll do my best to get to the Boulder to enjoy the show. But whether I'm there or not, a well-known Bengal Tiger will definitely be on the prowl high overhead."
Kissinger led by example when it came to his adventurous spirit. During a 1970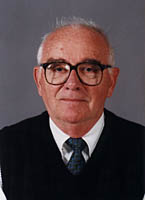 Winter Term project, he (and Joseph W. Corbett, mathematics professor) led four students in the construction of a 30-foot-wide, 600-pound radio telescope. As if that wasn't enough excitement for a three-week course, he topped off the term by convincing the Air Force Cambridge Research Laboratory to transport the class and its homemade giant to a base in North Carolina, where they studied a total solar eclipse.
In 1997, graduating DePauw seniors extended their gratitude and admiration for Dr. K when they requested that he speak at their commencement instead of bringing in an external speaker, as is usually done. Of course, Dr. K complied. For his efforts, he received a standing ovation.
An experienced pilot, Kissinger logged 2,500 hours in his single-engine airplane. He also lectured at 120 Indiana schools, was given 34 overseas assignments for the Departments of Defense and State, wrote several dozen technical and science education papers, and received more than $1 million of funding for projects in 15 countries on five continents.
"From the time I arrived at DePauw in 1978, Paul Kissinger was a friend and trusted colleague," DePauw University President Robert G. Bottoms said. "Paul exemplified the characteristics alumni have most appreciated about DePauw faculty. He was an excellent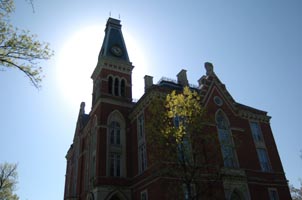 teacher, and a true friend to all of his students. I consider it a privilege that I presented him with one of the very first Tucker Awards in 1991."
The Frederick C. Tucker Distinguished Career Award recognizes the achievements of senior faculty members who have made notable contributions to the University through their commitments to students, teaching excellence, their chosen disciplines and University service.
Dr. Kissinger received a total of eight teaching awards, including the Best Professor Award three times. Even following retirement he continued teaching in a series of videotaped physics experiments for use in African classrooms that cannot afford expensive equipment for hands-on experiments.
Paul Kissinger grew up in Reading, Pa., and was graduated from Albright College in 1952 as the school's top scholar-athlete. He received a master's degree at Northwestern University and Ph.D. at Rutgers University.
Back