"You Have A Responsibility to Lead," Labor Secretary Elaine Chao Tells DePauw Graduates
May 19, 2002
Also: Complete Speech by Secretary Chao; View Photo Gallery; Honorary Degrees Awarded; Walker Cup Speech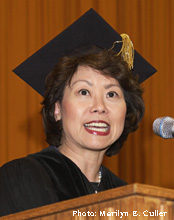 May 19, 2002, Greencastle, Ind. - "Your DePauw education has given you an avenue to success in life. It will open many doors. But, it has also given you a responsibility," U.S. Secretary of Labor Elaine L. Chao told DePauw graduates at the University's 163rd annual commencement today in a speech entitled "Patriots in the Twenty-first Century."

[DOWNLOAD AUDIO: "Responsibility to Lead" 189KB] The graduates carry, in her words, "A responsibility not just to be a good citizen and pay your taxes and obey the law, but rather, a responsibility to lead."
Four hundred sixty-three seniors participated in the ceremony, which was moved indoors to Lilly Center because of wet weather. Chao told the audience,

[DOWNLOAD VIDEO: "Top School" 831KB]

[DOWNLOAD AUDIO: "Top School" 445KB] "DePauw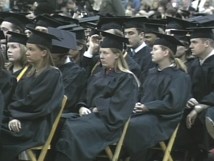 is one of the nation's top liberal arts universities. You have been written up in lots of magazines and rating lists, and you have a lot of illustrious alumni, one of [whom] is former vice-president Dan Quayle ['69], with whom I had the privilege of serving in the [first Bush administration]." Chao said to the students, "schooled in history, literature, language, the arts, science, and mathematics... Your decision to seek a liberal arts education suggests that you expect your life to be enriched by things beyond a career -- although you will most certainly succeed in one."
But success, the Labor Secretary told the graduates, isn't something that only happens in offices and board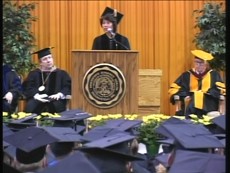 rooms.

[DOWNLOAD VIDEO: "DePauw Volunteerism" 783KB]

[DOWNLOAD VIDEO: "September 11th" 780KB]

[DOWNLOAD AUDIO: "September 11th" 352KB] "The horrible, horrific attacks on our country of September 11th remind us of the value of our freedom and liberty, and also of our ties to one another as Americans. It also opened our hearts to a new spirit of service in America -- one that asks, 'What can I do to help?'"
Chao told the Class of 2002, "My hope is that more Americans are learning, every day, the value of community service. DePauw's Hartman Center for Civic Education is a
monument to it, and I know that as DePauw students you have been encouraged to give of yourself throughout your career here. And now, as you leave the safe haven of DePauw, it is time to think about carrying a commitment to service forward into your post-graduate life. I believe that the habit of service you have formed here at DePauw, through DePauw Community Service, Winter Term in Service, the Bonner Scholars Program, and Alternative Spring Break is as important to our nation's future as the knowledge you have acquired. Not only that, but I believe DePauw's lasting legacy is to produce leaders. You will not only serve, you will lead. We need your generation of "can-do" Americans. We need citizens who can analyze issues and problems; design solutions; build coalitions of support; and motivate others.
Take the time and make a commitment to sharing your time and your talents -- share what you have learned here wherever you go next."
The Labor Secretary advised the graduates, "You have a unique opportunity to make a real impact on our country and our world, and a chance to make your generation the new 'greatest generation.' You will do that in thousands of ways, but I challenge you, as you think about how to make your impact, to change you community, your country and your world one heart at time." The secretary says

[DOWNLOAD AUDIO: "Great Kindness" 261KB] "all acts of kindness are great."
Chao added, "Twenty-one percent of young people who choose to serve say they do so, 'because it makes a difference.' They couldn't be more right.

[DOWNLOAD VIDEO: "Asking You" 933KB]

[DOWNLOAD AUDIO: "Asking You" 465KB] When you
change one person's life, you are changing the world. Most people also say that they volunteer because they were asked to do so. And so, I'm here to ask you: volunteer to serve your community, your nation, and your world. As a graduate of DePauw University, you are already part of a great tradition of community service. My hope is that you will join a long national tradition of service."
Chao, the first Asian American woman appointed to a President's cabinet in the nation's history, continued, "The only way that freedom and opportunity can prosper is when citizens take responsibility not only for their own actions, but to care for their neighbors as well. A nation that depends solely on its government to establish order, enforce good behaviors, or to be the exclusive provider of services or benefits is a nation that has lost its moral grounding. Each of you has been blessed with freedom because generations before you sacrificed so much. Now it is your turn.

[DOWNLOAD VIDEO: "Do Good" 600KB]

[DOWNLOAD AUDIO: "Do Good" 285KB] So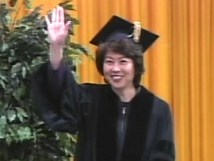 as you venture forth, please do not forget to use your life not only do well, but also to do good." (BONUS CLIP:

[DOWNLOAD AUDIO: "Defeating Terrorism" 204KB])
Ms. Chao, who was also awarded an honorary doctor of public service degree, noted that she has two DePauw connections. "I've heard so many wonderful things about DePauw from Kristine Iverson [a 1975 graduate] who serves as the Assistant Secretary for Congressional and Intergovernmental Affairs at the Department of Labor and is a proud DePauw alumna. Another top member of the DOL team has a close connection to this fine school. Dr. Donald Findlay of your Board of Trustees is the father of the Department of Labor's Deputy Secretary, Cameron Findlay."
Chao and four other individuals received honorary degrees at today's ceremony. Read more here.
Back