Walker Cup Recipient Rebecca Hedge '02 Addresses Fellow Graduates
May 19, 2002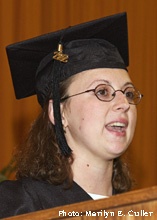 May 19, 2002, Greencastle, Ind. -
[DOWNLOAD VIDEO: "Role Models" 465KB] "Until recently, I had not realized how many role models I have had while attending DePauw," Rebecca J. Hedge, a member of DePauw University's Class of 2002 told her fellow graduates today. As recipient of the Walker Cup, which recognizes the senior student judged to have contributed the most to the University during his or her four-year college career, Hedge had the opportunity to share a speech with her classmates today. "I realize role models aren't something that we normally think about, but take a moment to reflect on those people that have affected the last four years of your life."
"I think of role models as people I look up to, learn from, and ultimately become a better person from having known," Hedge said, citing students, professors and alumni who have contributed to and enhanced her DePauw experience.
[DOWNLOAD VIDEO: "Everyday Interactions" 1400KB] "Each of us have these special people in our lives," the 2002 graduate continued. "And it is important to identify our role models, because they can offer wisdom and insight in times of need... While we are all trying to make a difference in the world through community service and studying abroad, it is the everyday interactions that we have
with the people around us and our community that truly makes each one of us a role model."
Hedge summed up her brief address by saying,
[DOWNLOAD VIDEO: "Unique & Unforgettable" 743KB] "I want to thank those who have been role models for me. And as we start a new chapter in our lives, I challenge you to say 'thank you' to those who have made a difference in your life at DePauw. They are the people who have made our four years unique and unforgettable. I wish you all the best."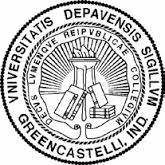 U.S. Secretary of Transportation Elaine Chao delivered today's primary address; it's summarized here. Five distinguished individuals received honorary doctorates at the ceremony. Read more here.
Indianapolis NBC affiliate WTHR covered the proceedings. A report is embedded below.
Back