Eli Lilly VP Newt Crenshaw '85 Profiled in Indianapolis Star
May 21, 2002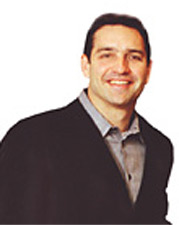 May 21, 2002, Greencastle, Ind. - "It's called e-Lilly, a project that began 18 months ago to put Eli Lilly and Company on a broader e-footing by exploiting the Internet," begins a profile in the Indianapolis Star. "A Lilly vice president, Newton F. Crenshaw, 39, helps oversee this effort to stress the "e" in Lilly. A native of Newburgh, Ind., with an economics degree from DePauw University, Crenshaw is a 17-year Lilly veteran who worked his way up in sales and marketing," the paper writes of the 1985 DePauw graduate.
"We're looking to develop new channels or interaction with our customers, with a heavy emphasis on physicians. Access to a busy professional like a doctor is a very precious commodity. We need to find new ways to interact with them in a way that's useful to them," Crenshaw tells the Star in a lengthy "Corner Office" interview. "We've done point-to-point video e-detailing in the U.S. with a group called iPhysicianNet and have seen concrete business results. This is where we connect a virtual pharmaceutical salesperson in a call center, through live Webcams and video streaming, with a customer. We have several thousand doctors signed up.

We have promoted four different brands over this channel and feel very good about the results. In Japan, we started using a cross between the cell phone and the Internet, doing a project where we put relevant diabetes-care information for patients on a Web site. It's a way to link patients and doctors together around superior care for diabetes."
You can read the entire interview online at the newspaper's Web site by clicking here. There's also a previous story on Newt Crenshaw, accessible here.
Back