Acclaimed Violin Virtuoso Nai-Yuan Hu Teams with DePauw Professor for May 30 Concert & CD Project
May 24, 2002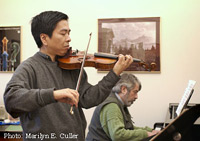 May 24, 2002, Greencastle, Ind. - As Alumni Reunion Weekend 2002 gets underway on the DePauw University campus, one of the world's tremendous virtuoso violinists, Nai-Yuan Hu, will perform with DePauw University School of Music Professor Claude Cymerman in a program of Viennese Waltzes and Other Viennese Gemson Thursday, May 30, at 4:30 p.m. in Thompson Recital Hall. Hu, a native of Taiwan and winner of the first prize in the prestigious Queen Elisabeth International Competition in Belgium, will be on campus next week to collaborate with Professor Cymerman for an upcoming recording session for Hu's CD project on the EMI label.
The recording will take place next month in Holland and will be a celebration of world-renowned Viennese waltzes by Richard Strauss, Johann Strauss, and Franz Lehar,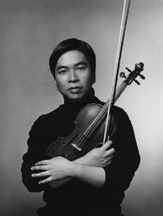 as transcribed for violin and piano in virtuosic arrangements by artists such as Fritz Kreisler and Leopold Godowsky.
Mr. Hu, winner of the first Indianapolis International Violin Competition, has appeared on many of the world's stages, including performances with the Toronto Symphony, Seattle Symphony, the Symphony Orchestra of Taiwan, the Netherland and Rotterdam Philharmonics, Belgian National Orchestra, the Liege Philharmonic, and Orchestre National de Lille in France. His performances have been broadcast in the U.S. on WQXR, National Public Radio, and PBS. He is currently finishing a three-CD project for the EMI label, and at the invitation of Taiwan's Chi-Mei Foundation, has recorded a series of compact discs playing violins from Chi-Mei's
priceless collection of instruments. He had a cameo role in the Miramax romantic comedy, Kate and Leopold, starring Meg Ryan and Hugh Jackman.
Professor Cymerman, a native of France, is the Siegesmund Professor of Music at DePauw University and has been a soloist with major orchestras including the Radio France Orchestra, Orchestre des Pays de la Loire, Orchestre Symphonique de Limoges, Orchestre Pasdeloup, the Luxembourg and San Francisco Chamber Orchestras as well as the Indianapolis Symphony Orchestra.
He is currently planning a sabbatical that will explore avant-garde piano music and jazz/improvisation skills preparing for a performance on his return to DePauw.
Thursday's concert will include selections from the Viennese waltzes being prepared for the recording. The concert is free and open to the public.
Back