Newspaper Writes of Tom Henshaw's ('98) Peace Corps Experience
May 30, 2002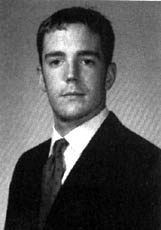 May 30, 2002, Greencastle, Ind. - Tom Henshaw "graduated from DePauw University in May 1998 with degrees in International Business and Spanish, and left for Paraguay four months later. That wasn't his orginal plan," writes Rami Yoakum in Ohio's Chillicothe Gazette. The 25-year-old Henshaw (whose senior yearbook picture is seen at left) spent about three and a half years in the Peace Corps, helping the people of Paraguay. "They're a poor, agriculturally based people who live off of one or two crops a year," he tells the paper. "Their income in a good year may be $1,500."
At DePauw, where he played football and was on the track and field team, Henshaw says, "I really wanted to study Spanish. So I also studied business because I thought it would be a good follow-up. I was closing in on graduation and started looking for jobs when I realized I wasn't ready at that point to have an office job and I didn't want to teach."
Henshaw served in the village of San Francisco, population 300, a place with no running water. "I could never presume to teach the people there anything about farming. They've been farming for generations. We try to expand their outlook so they realize there are other methods they can use that better fit their climate and better fit the situation, and to not be so dependent on a single crop income."
Of his experience, Henshaw tells the Gazette, "I learned a lot about myself and where I think I'd like to go in life. I've decided I'm going back [to college for a master's degree] and study sustainable agriculture. It really re-established some things I was thinking before, about what our position is as the United States internationally, and maybe things we should do that we don't ... But I also appreciate being from here and how charmed of a life we really do have."
Back