Legendary Jazz Musician George Shearing Receives Honorary Degree
June 1, 2002
June 1, 2002, Greencastle, Ind. - Pianist, composer and bandleader George Shearing, who All Music Guide says has enjoyed "one of the longest, most prolific recording careers in jazz history," was awarded an honorary Doctor of Music degree at DePauw University's Alumni Reunion Weekend today.
Shearing, in his seventh decade of making music, told the crowd in Kresge Auditorium,

[DOWNLOAD VIDEO: "Married to DePauw" 1400KB]

[DOWNLOAD AUDIO: "Married to DePauw" 744KB] "Receiving an honorary degree in music from DePauw University holds a very special meaning for me. My wife Ellie [Geffert] graduated from the School of Music in 1955. When I married Ellie, I feel like I married DePauw also." Smiling, he continued, "And as we say in the countryside of England, 'I married DePauw and all that that entails.'"
The legendary musician continued,

[DOWNLOAD AUDIO: "Greatest of Honors" 479KB] "My wife's friends and associates at DePauw have become my friends. And now, best of all, you have made me a member of the DePauw family. That, dear friends,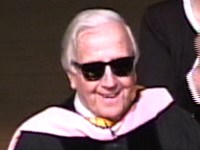 is the greatest of honors."
After receiving his honorary degree, Shearing treated the audience to a brief performance. He prefaced his biggest hit Lullaby of Birdland by telling the crowd, "In my life I have written some 300 songs, 299 of which had a bumpy ride from relative obscurity to total oblivion." After the audience finished chuckling, Shearing played the song, which you can sample here:

[DOWNLOAD VIDEO: "Lullaby of Birdland" 865KB];

[DOWNLOAD VIDEO: "More Lullaby" 785KB].
Shearing followed with Just Imagine (hear it:

[DOWNLOAD VIDEO: "Just Imagine" 796KB]).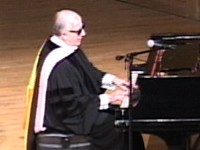 In 1949, Shearing received an unprecedented reception with his recording of September in the Rain, which introduced a completely new sound and approach to modern jazz. Throughout the '50s, '60s and '70s, the George Shearing Quintet enjoyed continued popularity, recording with various small groups that included Joe Pass, Toots Thielemans, Cal Tjader, Nat King Cole, Peggy Lee and Mel Torme, among others. Shearing remains active and is considered one of the best-known musicians in jazz. All Music Guide comments, "For a long stretch of time in the 1950s and early '60s, George Shearing had one of the most popular jazz combos on the planet -- so much so that, in the usual jazz tradition of distrusting popular success, he tends to be underappreciated."
You can read more about Shearing, and sample more of his music, by clicking here.
Founded in 1884, the DePauw University School of Music is one of the oldest in the nation and has an established tradition of educating leaders in virtually every facet of music, including performers, educators, composers and administrators. Learn more here.
Back