Retiring Gettysburg College Dean Robert Nordvall '62 Profiled by Newspaper
June 4, 2002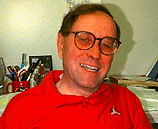 June 4, 2002, Greencastle, Ind. - "He's an incredible institutional memory, partly because he's been here for a number of years," Julie Ramsey, dean of Gettysburg College says of Robert C. Nordvall, a 1962 DePauw University graduate who retired as dean of first-year students at Gettysburg May 31. In an article in Pennsylvania's York Sunday News, Ramsey says of her colleague of 20 years, "Having been trained as a lawyer, he's very analytical. And he's very sharp and quick, which is a talent that will be sorely missed."
The article adds that the Gettysburg community will remember Nordvall's "leadership in Central Pennsylvanians to Abolish the Death Penalty and his involvement in Pedals for Progress, which sends used bicycles to needy people in Latin America, Africa and the Pacific Islands." The latter program sent 640 bicycles overseas last year.
The article notes, "Nordvall's own enthusiasm for school has kept him involved in academics. After graduating from DePauw University with degrees in philosophy and religion in 1962, he completed Harvard Law School in 1965, then
worked as an attorney for three years. He returned to school to earn a doctorate at Indiana University." While in Greencastle, Nordvall was a member of the 1961-62 DePauw GE College Bowl national championship team.
Nordvall will move to Pistoia, Italy, where he plans to find an apartment and ride his three bikes around the countryside. "I've never lived abroad, so I thought I'd give it a try," the retiring 62-year-old told the Sunday News. "I might stay a year, I might stay the rest of my life, or somewhere in between. I don't know what'll happen, but I don't worry about it."
Back