Columnist Frank Kaiser '57 Writes About His 45th Reunion
June 6, 2002
June 6, 2002, Greencastle, Ind. - "Standing in a cafeteria line at my 45th college reunion last week, the woman from the class of '58 asked of no one in particular, 'When did I get old?' All conversation stopped," writes DePauw University alumnus Frank Kaiser in a humorous "Suddenly Senior" essay today. Kaiser's musings on life after fifty are published in a number of magazines and can be read on Suddenly Senior.com. "My first thought: Since I'm from the class of '57, I must be older than old. Geez!," Kaiser writes.
Kaiser, writing just a few days after attending Alumni Reunion Weekend in Greencastle, continues, "Someone suggested that we got old the first time we received a senior citizen discount without asking. Another blamed it on AARP, declaring that their letter inviting membership was like a death knell. A third laughed and said, 'I got old exactly at the point when my arms were too short to read the newspaper.'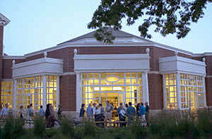 We were talking Suddenly Senior here, that moment in time when -- out of the blue and contrary to that 23-year-old living inside us -- we realized that we were geezers to the rest of the world."
Later, Kaiser writes, "I'd been at DePauw two days now. I'd compared life stories with maybe 50 of my classmates. I'd yet to hear anyone complain. Now, let's face it, we were all on our best behavior. But I'd spoken with some for a half hour or more. And instead of regrets, I heard nothing but confidence in life and in the future. All have grand plans ... We've grown up, this class of '57. But we haven't grown old. None of us. I don't care what AARP says."
He continues, "More than ever, we wonder at the stars, now made closer by Hubble, and we're challenged by change, and work to make the most of it. For us, for our children, for our communities and our country.

We may be Suddenly Senior, but amazingly -- to me, anyway -- our hearts are still young, our appetites childlike, and our joy in each other endless.
"We are today's seniors. The world had better get out of the way." You can read the essay in its entirety at Suddenly Senior.com, billed as "a place for everyone who's become senior before their time," by clicking here.
Back