New Book, Amazing Grace, Recounts DePauw's History and Contributions
June 10, 2002
June 10, 2002, Greencastle, Ind. - A new book on the history of Methodism in Indiana makes a number of prominent mentions of DePauw University and draws heavily from the University archives in its quest to bring the history of the United Methodist Church in the Hoosier State to light.
E. Carver McGriff's Amazing Grace chronicles Methodism in Indiana from the beginning of the 19th Century to the present. McGriff spends three pages detailing the creation of DePauw (as Indiana Asbury College in 1837), noting that the Church decided on Greencastle as the site of Indiana Asbury after the townspeople pooled together $25,000, a very large sum at the time. The author notes that some 450 men from the college went on to fight with the Union in the Civil War and tells how the chairman of the Board of Trustees, Washington C. DePauw, made a large personal donation to the school which led to the University being renamed in his honor.
McGriff also quotes more recent University figures, such as Eugene C. Pulliam, a 1910 DePauw alumnus who co-founded Sigma Delta Chi (The Society of Professional Journalists) while a DePauw student in 1909, and owned 46 newspapers over the course of his career, who asserted that he was "quite sure that there was no college in America, which on a per capita student basis has produced as many outstanding newspaper men and women as have come out of DePauw University."
The book also mentions DePauw's ranking in the top tier of the nation's liberal arts colleges by U.S. News and World Report and quotes current DePauw President Robert G. Bottoms as saying "We're tickled to death"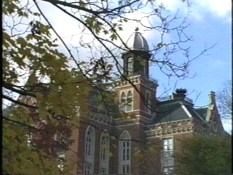 about the positive rankings.
DePauw is also portrayed as being a forward-thinking University in terms of race and social injustice. McGriff cites the efforts in 1925 of DePauw graduate Asa J. Smith to curb the rise of the Ku Klux Klan in Indiana by prosecuting one of its leaders. He also writes of Martin Luther King Junior's September 5, 1960 speech on the DePauw campus.
DePauw is also depicted as a leader in the freedom of Greek organizations, as well. McGriff notes a citation given to former president William E. Kerstetter, who allowed Greek chapters to have freedom in choosing their membership, apart from pressures that may have been put on them by national organizations and alumni.
Of DePauw, the author writes, "the Methodists of Indiana are justifiably quite proud."
Amazing Grace is available at 30% off the list price ($14.95 hardbound, $9.95 in paperback, after discount) from Providence House Publishers. For orders of 25 copies or more, the book is $8.22 in hard cover, $5.47 soft. You can call the publisher toll-free at (800) 321-5692. The book is also available through Barnes & Noble.com by clicking here.
Back