See the 2002 Putnam County Relay For Life Video
June 11, 2002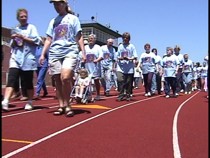 June 11, 2002, Greencastle, Ind. -
[DOWNLOAD VIDEO: "Video Segment #1" 1000KB] "I think Relay is a celebration of life," 2002 DePauw University graduate Rebecca Hedge says of Putnam County Relay For Life, the American Cancer Society fund-raiser she co-chaired in 2001, in a new video. "It's a time to remember those who have passed away from cancer, and to celebrate those who are still with us that have battled the disease. [And] it's a great opportunity for the community and DePauw to come together," Hedge continues. The video, created by Chris Newton of DePauw's Pulliam Center for Contemporary Media (and 1985 graduate of the University), will be used to attract even more sponsorships and volunteers for next year's Relay.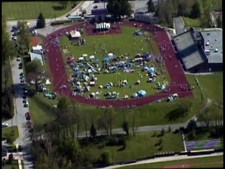 [DOWNLOAD VIDEO: "Video Segment #2" 1005KB] "Putnam County's Relay For Life is the oldest college-run Relay For Life in the country," 2002 co-chair Ed Nightingale, who also graduated this spring, says on the tape. This year's Relay, held May 4-5, has raised more than $125,000, bettering the goal of $100,000 and a more than 50% increase over last year's record total of $80,000 raised. More than 1,300 people walked the Blackstock Stadium track over the 24 hour Relay, up from 830 walkers last year. The top community team was First National Bank of Cloverdale with over $13,000 in donations. Phi Kappa Psi was the top fundraising all-college student team, raising over $8,000. The youngest team captain was Clay Spencer, a fifth grader from Putnam County.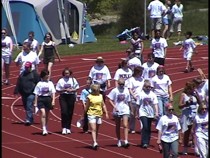 [DOWNLOAD VIDEO: "Video Segment #3" 844KB] "When the Relay started in 1997, it was strictly a DePauw Relay For Life," Hedge says in the video. "But over the last few years, it has changed into the Putnam County Relay For Life held at DePauw University, and I think that's an important distinction. We've tried very hard to make it a community-DePauw event, where it's not just DePauw students doing good things,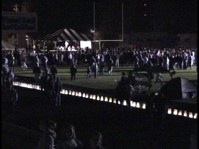 and it's not just the Greencastle/Putnam County community walking to find a cure, but that we're doing it together."
The video includes a poignant montage of the luminaria ceremony. Hedge calls it,
[DOWNLOAD VIDEO: "Video Segment #4" 1900KB] "a time to remember those loved ones who aren't with us anymore and to honor those who have beaten cancer." The poem, To Those I Love, and Those Who Love Me is read over photos of the luminaria being placed around the track, and the messages they spelled out, including "faith", "hope" and "cure".
Of the nearly 12 minute tape, Nightingale says, "I think the video is something all of Putnam County can be proud of. It will show people all over Indiana just what Relay For Life is all about, and why our Relay is one of the best in the country!"
For more information about Relay For Life, contact 2003 student co-chairs Tricia Cooksey e-mail here or Amanda Manning e-mail here.
Back