Lee Hamilton '52 is Member of President Bush's Homeland Security Advisory Council
June 12, 2002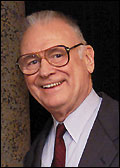 June 12, 2002, Greencastle, Ind. - Lee Hamilton, a retired U.S. Congressman and 1952 graduate of DePauw University, is at the White House today for the first meeting of President Bush's new advisory council on homeland defense. Hamilton, a Democrat who served 34 years in the U.S. House of Representatives, is a member of the Homeland Security Advisory Council, along with former FBI Director William Webster and 19 other executives and public officials from across America.
"You're breaking new ground, and you're going to help us leave a legacy so that future presidents, future administrations and future Congress' can deal more effectively with how to do the most important
job any elected official has, which is to protect innocent life," the President told the new council. The New York Times reports "the panel is to help lay the groundwork for creation of a Cabinet-level department for domestic security."
President Bush today also signed $4.6 billion bioterrorism legislation into law. It includes provisions for stockpiling vaccines, improving food inspections and boosting security for water systems.
You can read more about today's events in an Associated Press article by clicking here and in a New York Times story here (a free registration at the Times' Web site is required).
Back